About this Event
Content
We are living in an amazing time in human history, a time where new emerging technologies are fundamentally altering the way we live, work, and relate to one another. In its scale, scope, and complexity, this transformation is unlike anything humankind has experienced before.
Although rapid technological change will bring along opportunities in every aspect of our lives, it will also bring about new challenges to the foundations of our existence like our health, well-being and our humanity itself.
How will we cope with the challenges like increased stress levels these changes will bring about?
How will we stay meaningful for the job market, knowing that 50% of all existing jobs might disappear or change significantly over the next 5 to 10 years?
How will we become better at being human when faced with the lure of super human powers and the extension of our human faculties through techno- and bio-enhancements?
A new shift in our evolution and thinking is needed today where we step away from leaving our lives up the chance (Que Sera Sera), futurize ourselves and design our life on purpose.
Objectives
Outlining the challenges of exponential change for humanity and the world
Inspiring you to become active participants in shaping your future today
Delivering practical actionable solutions that you can implement straight away
About the speaker
Tom Meyers, is an osteopath (MSc. D.O.) and body-centred stress coach, speaker and author of "Futurize Yourself." In his practice in Brussels he has been helping people who suffer from work-related stress and technostress for more than 15 years. This has led him to develop the innovative body-mind and educational Reaset Approach. During his talk, Tom will focus on the challenges that new emerging technologies such as AI, AR, VR, robotics will have on body, mind and spirit and through his Futurize Yourself concept, share relevant and purposeful insights on how you can prepare yourself today to thrive in a fast-changing world.
More information on:
This event at Google Digital Atelier is sold out but there are still place available for Tom's Futurize Yourself talk, chat, drink and book signing session at Waterstones Brussels on 21 November from 17h30 tot 18h30.
As places are limited registration is advised on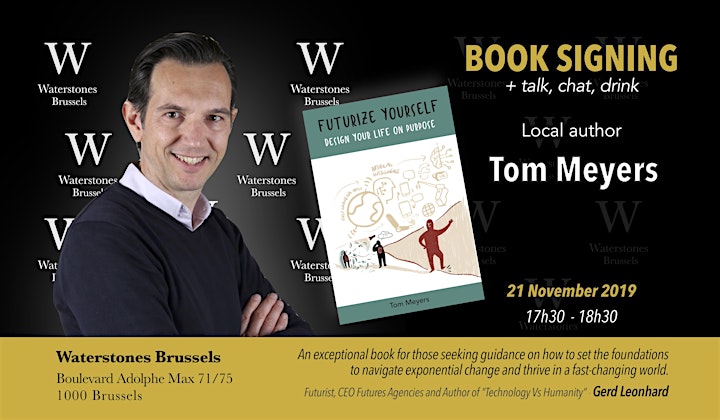 This presentation is based on the content of Tom's book "Futurize Yourself - Design your life on purpose." in his book Tom describes his transformation story, how three questions saved his life 20 years ago, gave him a sense of purpose and helped him find his potential which in turn helped him to transform himself from a good for nothing, depressed, suicidal and unhappy person to become on purpose the international therapist, speaker, trainer and author he was born to be.
In a fast-changing world where more and more is digitised and automated it is what makes you unique, your potential and skills that will become the most important quality to navigate the changes ahead with success and for being healthy, happy and fulfilled.
About the book
Futurize Yourself is a - How-to-Guide - with an approach that works and has helped many other people to become who they were born to be.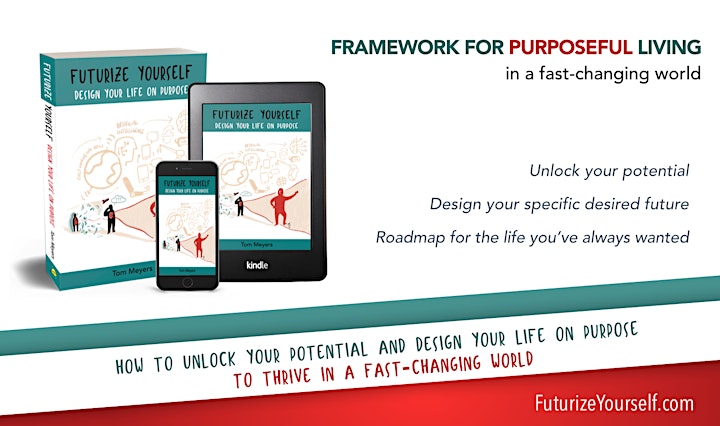 Copies of Tom's book "Futurize Yourself - Design your life on purpose" will be available for sale on the day itself. You can also order your signed copy HERE today for 17,99€ (excl. shipping) and get it delivered to you together with as extras "Design & Reaset your Life on Purpose" and a "Futurize Yourself" book marker.
Upon ordering you will also receive by email a link to download a PDF with the first chapter and a PDF with articles on stress & resilience in a fast-changing world that Tom has published.
For more information or to get a copy in advance of the event visit futurizeyourself.com
By attending this event you are agreeing to be photographed or filmed and grant the event organisers Tom Meyers and Google full rights to use the images resulting from the photography/video filming, and any reproductions or adaptations of the images for fundraising, publicity, marketing or other purposes. This might include (but is not limited to), the right to use them in their printed and online publicity, social media, press releases and funding applications.
If you do not wish to be photographed or filmed please mention this to a host at the registration desk before the event starts.