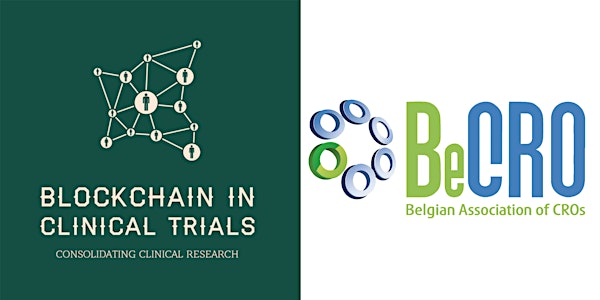 Workshop: Blockchain in Clinical Trials
Blockchain in Clinical Trials - How and Why Blockchain and Distributed Ledger Technologies (DLTs) are new disruptive approaches
When and where
Location
Cercle du lac 23 Boulevard Baudouin 1er 1348 Ottignies-Louvain-la-Neuve Belgium
Refund Policy
Refunds up to 30 days before event
About this event
Blockchain in Clinical Trials - How and Why Blockchain and Distributed Ledger Technologies (DLTs) are new disruptive approaches in the Clinical Trials Industry? A pragmatic seminar with views from Blockchain , Pharma and CRO industries professionals
We are in the midst of a significant shift in pharmaceutical drug development, with the inception of new paradigms and technologies. Blockchain has arrived to fundamentally create a new paradigm patient-centric drug development and healthcare best practice.
For the last 2 years, multiple initiatives are moving the Blockchain for Clinical Trials Conversation from Why to How & When with Industry, Regulatory and the Patient .
This seminar will embrace several views from pharmaceutical professionals, technologists, clinical trial service providers and other stakeholders who are evaluating the viable use cases for Blockchain /distributed ledger technologies (DLTs).
Agenda
14:00 -14:30: Welcome
14:30 -17:30: Workshop
1. INTRODUCTION OF THE WORKSHOP OBJECTIVES AND SPEAKERS - by Olivier Simon – (VISO Clinical)
2. INTRODUCTION TO THE BLOCKCHAIN: "INTRODUCTION TO THE BLOCKCHAIN AND DISTRIBUTED LEDGER TECHNOLOGIES (DLTS)" by Christophe Van Huffel – PhD (GENERGON)
Blockchain technologies enable the creation of a digital database which is rendered extremely secure through its reliance on mathematical consensus achieved by the operation of a distributed network of computers which store identical copies of the database. In this way, Blockchain technologies provide the foundation for trust between strangers without the need for a trusted third-party intermediary to guarantee the security of transactions.
Dr. Van Huffel will provide an introduction of how blockchains are constructed as well as the basement of a description of blockchain architecture and development.
He will discuss what real value this technology can offer to the healthcare sector. He will create a case study that will provide a direct understanding of the blockchain and distributed ledger approaches.
Dr. Van Huffel will also co-chair the Workshop.
3. WHY IS BLOCKCHAIN A NEW PARADIGM IN THE PHARMA AND IN CLINICAL TRIALS INDUSTRY?" by Ingrid Van Rompaey- PhD (VISO Clinical)
Blockchain provides huge opportunities for application and development in clinical trials. Numerous studies and professional bodies have shown the potential of blockchain in streamlining the clinical supply chain, patient incentivization, longitudinal patient approach and health information exchanges.
Like any other emerging technology, blockchain is a largely noble idea in clinical trials, but it is also faced with significant challenges and limitations. While the operational side works seamlessly, there are numerous issues concerning processes, protocol, and policies. Questions have been asked over the ability of blockchain to conform to regulatory guidelines such as the HIPAA, FDA, and GDPR. Others have questioned over the issues of incentivizing sharing and managing consents as well as smart contracts. Additional concerns have also been raised about data ownership and validation.
Overall, blockchain is a technology that offers a lot of promise and potential. While still capable of revolutionizing clinical trials and the healthcare industry as a whole, there are bottlenecks that must be overcome. With continuous innovation and advancement, it is possible to surmount the aforementioned challenges.
Dr. Van Rompaey will discuss about the relevance of blockchain in several areas of the clinical trials, covering information sharing about potential volunteers to participate in Clinical trials with all clinical trial stakeholders, i.e. Clinical Research Organizations (CROs), Biopharmas, Academic Clinical Trial Centers and Non-Governmental Organizations (NGO's) through the use of a distributed ledger.
She will discuss the applications currently in development within patient advocacy groups which goals are to improve the recruitment and pre-validation process for volunteers. Others aspects s.a. supply chain applications, eConsent traceability, scientific reporting and publications will be discussed in the perspective of the current and future trends and constraints of the clinical trials regulations and technologies approaches.
Dr. Van Rompaey will co-chair the Workshop.
16H00-16h30 COFFEE BREAK
4. IEEE (STANDARD ASSOCIATION): INDUSTRY INITIATIVES ABOUT BLOCKCHAIN AND HOW IT WILL SUPPORT THE DISRUPTIVE APPROACHES OF THE CLINICAL TRIALS INDUSTRY - by Maria Palombini, MBA (IEEE)
The IEEE Standards Association (IEEE-SA)- http://standards.ieee.org is a leading consensus building organization that nurtures, develops and advances global technologies, through IEEE. This association brings together a broad range of individuals and organizations from a wide range of technical and geographic points of origin to facilitate standards development and standards related collaboration. With collaborative thought leaders in more than 160 countries, IEEE-SA promotes innovation, enables the creation and expansion of international markets and helps protect health and public safety.
IEEE-SA has organized in November 2018 the very first Blockchain for Clinical Trials Forum – Europe in Glasgow. IEEE-SA supports working groups focused on value propositions for actors in clinical trial by which the blockchain solution will be assessed.
During our workshop, Maria will discuss cases for blockchain application in clinical trials and the barriers and challenges yet to be resolved
• How blockchain can connect the data generated from medical back to clinical research
• Using blockchain to ensure data integrity and retain patient privacy
• Recognizing how technical standards will accelerate the adoption
• The patient perspective: incentives, concerns, compliance
• The benefits and challenges of public vs private blockchain applications
• Understanding the legal, technical side of smart contracts for e-consent
5. BLOCKCHAIN NETWORK FOR HEALTHCARE: IMPLEMENTING BLOCKCHAIN TECHNOLOGY TO HEALTH DATA SHARING APPLICATIONS FOR CLINICAL RESEARCH by Yves Ordonneau, Director Technical Operations & Implementation- EMBLEEMA
Embleema's moto is to empower patients with rare and chronic diseases to accelerate medicine by sharing their health data https://www.embleema.com/
Imagine a tamper-proof, holistic, longitudinal and patient-centric worldwide health record interfacing with patients, physicians, care centers, health authorities and the pharmaceutical industry.
Embleema is a group of healthcare and technology veterans building IT using cutting-edge technologies such as Blockchain and HL7 pharmaceutical industry standards. The Embleema platform uses a private Ethereum blockchain. The technology empowers patients. It does so by maintaining their data sovereignty, while at the same time providing a transparent record of the patient's medical history.
During this session , Yves Ordonneau, Director Technical Operations & Implementation – Embleema will provide a comprehensive explanation of Embleema's Blockchain-based PatientTruth platform which, is the first of its kind in the world . With a consortium of doctors, patients, blockchain experts and regulatory officials, Embleema is now building PatientTruth v2 with new features.
17:30 - 18H00: WRAP UP Synthesis – Panel Discussion. The audience should have the possibility to ask questions during the workshop
18H00 - 20H00: COCKTAIL NETWORKING