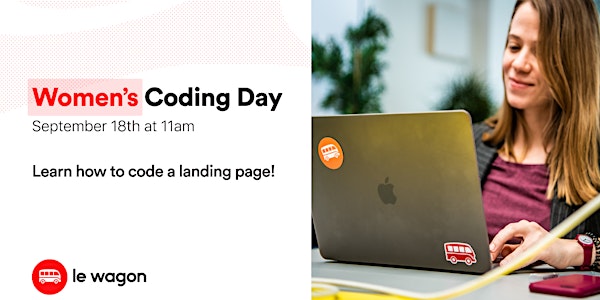 Women's Coding Day - Learn to code for free in September!
Create your first landing page with HTML & CSS!
When and where
Location
Le Wagon Brussels Cantersteen 10 1000 Belgium Belgium
About this event
[Online workshop - you will receive a Zoom link before the start of the workshop]
This is a FREE full-day workshop on the basics of coding & creating your first landing page from scratch with HTML and CSS!
⚡️Get a taste of web development and find out if it's for you.
⚡️Meet other women interested in learning to code.
⚡️Build your own landing page with our brilliant female teaching assistants.
Join us today and learn how to code 🚀
Women are under-represented in technical roles at under 20% industry wide, and only 2% of VC funding goes to women founders. According to McKinsey, the most gender-diverse companies are 27% more likely to experience above-average profitability, and a report by MSCI shows that having women on the board of a company boosts productivity.
Ref: Delivering through Diversity, 2018 (MicKinsey & Co.)
We are the educators at the start of this pipe, and we are determined to make change for the companies of the future!
🚀 About Le Wagon
Le Wagon is Europe's leading coding school for entrepreneurs and creative people. We are now present in 41 cities worldwide, with over 120 startups and 10,000+ alumni. Le Wagon teaches students to develop web applications from scratch or to give them the skills to enter a data science team. Our cutting-edge curriculum and world-class teachers give students all the skills and tools needed to kick-start their tech career, land a job as software developers, product managers, data scientists, data analysts or launch their own startup.
If you'd like to hear more about us, reach out to Pascaline, Brussels city Driver at brussels@lewagon.org
Next bootcamps:
Web Development
Full-time from October 4th to December 3rd
Part-time from October 2nd to March 19th, 2022
Data Science
Full-time from October 4th to December 3rd
Part-time from October 2nd to March 19th, 2022