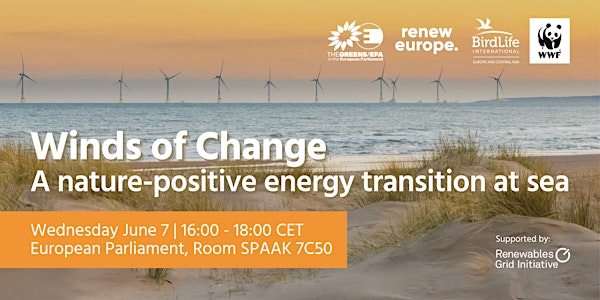 Winds of change: a nature positive energy transition at sea
Join our event to learn how to address the nature and climate crises simultaneously through a nature-positive energy transition.
By BirdLife Europe and Central Asia and WWF
Date and time
Wednesday, June 7 · 4 - 6pm CEST
Location
European Parliament, Room SPAAK 7C50 Espace Léopold Space JAN 3Q 1047 Bruxelles Belgium
About this event
To achieve carbon neutrality by 2050, we must take swift action to reduce global emissions and decarbonize human activities, including energy production. The need for energy independence in the EU further emphasizes the urgency of transitioning from fossil fuels to renewable sources. Offshore wind, a low-cost and proven technology, is a key component of this transition.
However, we must not tackle the climate crisis at the expense of nature's ability to regulate greenhouse gases. The climate and nature crises are interconnected and must be addressed together. Healthy seas are crucial in the fight against climate change, as they can capture and store carbon. Unfortunately, our ocean has suffered from decades of exploitation and development and given the limited space in these busy waters, we must find ways to rapidly and extensively deploy offshore wind and connect electricity grids, while minimizing harm to nature at sea.
It is essential that we prioritize nature protection and restoration alongside offshore wind and grid infrastructure development. Governments, industries, NGOs and stakeholders must work together to identify solutions that reduce and remove pressures on nature, while boosting the restoration and resilience of our seas. The upcoming Nature Restoration Law, currently being debated in the European Parliament, presents an opportunity to promote a positive change towards a Nature Positive Energy Transition.
Join the discussion to learn how to address the nature and climate crises simultaneously. We will explore how the Nature Restoration Law offers a unique opportunity for this and how the offshore renewable energy industry can contribute to practical solutions for restoring nature while transitioning to cleaner energy.
Agenda
Opening remarks will be delivered by María Soraya Rodríguez Ramos, MEP Renew Europe Group and Ester Asin, Director at WWF Europan Policy Office.
Pannel discussion & Q&A with:
Ewout van Galen, Head of Programmes at North Sea Foundation
Sebastian Schulte-Derne, Head of EU Office, Ørsted
Catharina Sikow-Magny, Director, Green Transition and Energy System Integration (ENER.C)
Jutta Paulus, MEP Greens/European Free Alliance
Ariel Brunner, Director at BirdLife Europe will provide concluding comments.
The discussion will be followed by a networking cocktail. 🥂