The must-know HR trends for 2021, from the leading companies. By Appical, Unit4 intuo and Recruitee
About this event
This year we saw a lot of change and transformation happen in the world of work. Every employee and leader, no matter which industry or wherever located, needed to adapt fast to the 'new normal'. Entire workforces were asked to work remotely, some sectors needed to apply a hiring freeze, while others flourished.
During this event, Recruitee, Appical and Unit4 intuo discuss the changing landscape of the complete employee journey: from recruitment, to onboarding and talent enablement. What are the must-know trends to look out for in 2021? What can HR do to ensure the company is future-proof? How can HR anticipate future challenges?
Program
14:00 Introduction
14:10 What's Next in Hiring - Recruitee
14:40 What's Next in Onboarding - Appical
15:10 What's Next in Talent Enablement - Unit4 Intuo
15:40 Closing
15:45 Networking Sessions with Recruitee, Appical & Unit4 intuo
What do we have in store for you?
What's next in hiring? Jennifer Peters, director of customer success at Recruitee will discuss how you can create a seamless hiring process. During her talk you'll discover how you can ensure high quality connectivity, create an effective remote hiring experience, monitor how well your recruitment processes are working from beginning to end.
What's next in on-boarding? Meghan Parinussa, customer success manager at Appical will tell you everything about remote on-boarding, re-boarding and the changed hire journey in 2021. Having recently completed the 100 days of on-boarding at Appical herself, she has a fresh view on remote on-boarding.
What's next in Talent Management? Olivier Van Loo will discuss how HR can move towards distributed talent management for better performance, greater engagement and increased wellbeing. Olivier has helped 100+ companies make the transition towards more data-driven & agile HR
By Agreeing To The Terms And Conditions You'll Also Opt-In To Receive An Email From All Event Partners *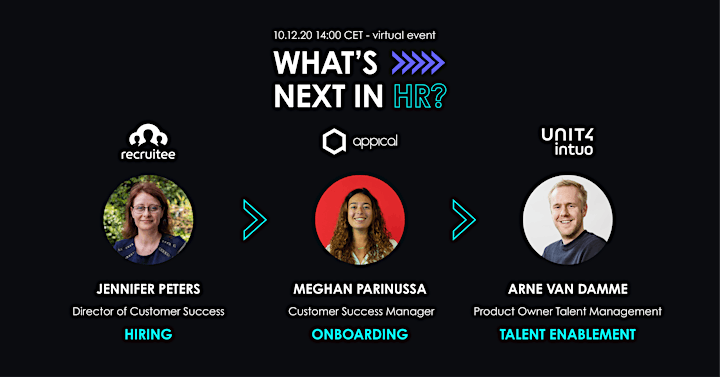 Organiser of What's next in HR?