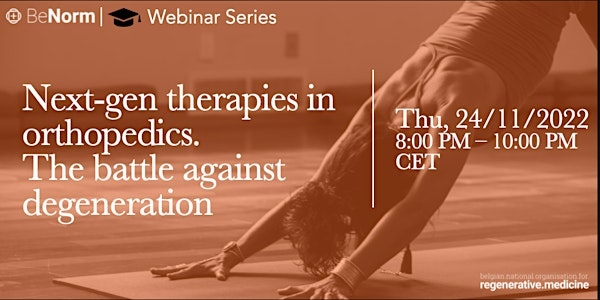 WEBINAR | PRP in orthopedics, the battle against degeneration
Webinar about PRP in orthopaedics and the battle against degeneration.
About this event
During our free webinar, "PRP in orthopaedics - the battle against degeneration", our moderator will have a panel discussion with national and international experts about the value of PRP in the battle against degeneration in orthopaedics.
Topics / Speakers
Prof Dr Alper Murat Ulasli (T-lab) - ADC (Adipose Derived Cells) /SVF (Stromal Vascular Fraction)
Dr Guilherme Ferreira Dos Santos - PRP (Platelet Rich Plasma)
Dr Chaz Fausel (Regenexx) - BMAC (Bone Marrow Aspirate Concentrate)
Dr Anita van Domselaar - Moderator - Co-founder BeNorm
Please use this link to sign up for zoom and jpin the session
We invite you to send any questions or topics you'd like us to address on this or any future session to info@benorm.be.
Check out future free training & webinars on BeNorm.be
We are looking forward to interacting with you all, next Nov 24 2022
Anita, Caroline, Chris & Mo
The BeNorm team
About us
BeNorm is the Belgian National Organisation for Regenerative Medicine.
BeNorm has been created to serve the needs of all patients by helping the regenerative medical community in Belgium and the world share efforts, knowledge, experience and practice.