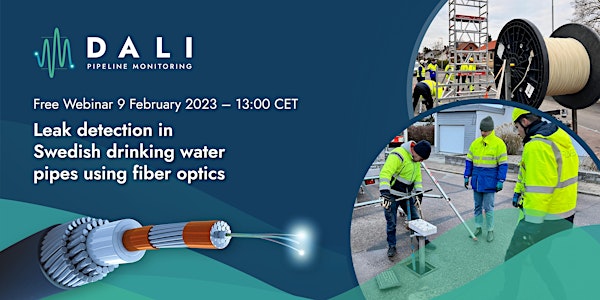 Webinar: Leak detection in Swedish drinking water pipes using fiber optics
In this webinar you'll discover why fiber optic sensing – using the DALI principle – is the best solution to monitor leaks in water pipes.
About this event
In this free and live webinar, DALI and Nordvästra Skånes Vatten och Avlopp (NSVA) will elaborate on a use case in Sweden where we inserted a fiber optic cable in NSVA's PE distribution pipes. In less than a day, we inserted the cable and discovered several test leaks in 110 mm PE pipes.
You can expect an interactive webinar describing the opportunities of the DALI system, as demonstrated through a specific use case. Upon finishing the webinar, you'll have a good understanding of the DALI system and how it can be applied in different contexts (e.g. water distribution networks, large-scale water transport pipelines, and industrial pipe networks), possibly in your business context as well.
Outline
Why fiber optic sensing? The highly accurate measurements of DALI
DALI in action
What can DALI monitor?
Case studies in Belgium and Sweden
Q&A
Speakers
Victor Pelin (NSVA) I LinkedIn
Victor Pelin is a specialist in drinking water distribution networks and projects at Nordvästra Skånes Vatten och Avlopp.
Thijs Lanckriet (Fluves) I LinkedIn
Thijs Lanckriet is project manager for DALI at Fluves, an engineering company specialised in fiber optic sensing for utilities and industrial infrastructure.
About DALI
DALI is a product developed by Fluves and Vigotec. It's a revolutionary monitoring system for industrial and utility companies looking to efficiently monitor their transmission and distribution pipelines. By installing a fiber cable in the pipeline and using the Distributed Acoustic Sensing (DAS) mechanism, sounds in the cable are registered and leaks are immediately reported. In doing so, DALI helps companies to efficiently manage their pipeline network, reduce water loss and a waste of resources, and resolve possible problems well in advance.
Not sure whether this webinar is relevant for you? Just get in touch and we'll be happy to guide you in the right direction: info@dalimonitoring.com.