Sales Have Ended
Registrations are closed
Thanks for registering! Please check your mailbox for more information about the We Webinar.
Sales Have Ended
Registrations are closed
Thanks for registering! Please check your mailbox for more information about the We Webinar.
Nobody said that changing the world through communication would be easy, but we are giving it a try!
About this event
We Webinar is a FREE online SIREE event that offers practical advice on how to drive action in communities with a migration background through effective communication.
We're excited to have Jaz O'Hara and Karijn Bonne join us on 8 April.
Jaz is the person behind the viral Facebook post about the Calais Jungle that raised £250,000 and reached over 13 million people in July 2015. She is also the founder of The Worldwide Tribe.
Karijn is Head of Research for Business and Management at Artevelde University of Applied Science in Ghent (Belgium). With diversity as her driving force and a background in (ethno)marketing, she has worked on studies on entrepreneurship for the last 10 years. She is the author of the book "#(S)heDIDIT: about entrepreneurship, youngsters and diversity".
Programme:
10:00 - 10:10. Welcome by Deniza Miftari and Sandra Vanneste, ARhus-SIREE team.
10:10 - 10:40. SIREE communication strategy by Jaco Correa, SIREE Communications Officer. 37000% more engaged: behind the scenes.
10:40 - 11:10. #(S)heDIDIT by Karijn Bonne. Doing research with people from diverse socio-cultural backgrounds: how to reach out and communicate.
11:10 - 11:20. Q&A.
11:20 - 11:30. Break.
11:30 - 12:00. The Worldwide Tribe by Jaz O'Hara. Building a Movement Online.
12:00 - 12:10. Q&A.
12:10 - 12:45. Interactive session: the 10 Commandments to improve your diversity communication skill set.
We Diversity Communication Webinar:
•is FREE.
•is in English.
•will be held on Thursday, 8 April, from 10:00 A.M. to 12:45 P.M. CET.
The countdown is on!
SAVE YOUR VIRTUAL SEAT TODAY!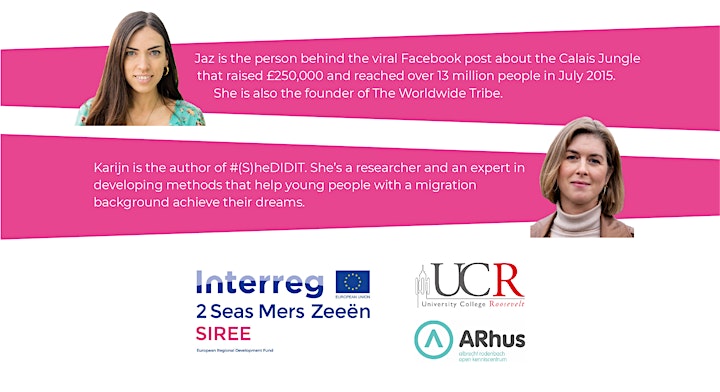 Organiser of We Webinar: Communicate. Connect. Include.
Kenniscentrum ARhus in Roeselare wenst terug te gaan tot dat wat bibliotheken in essentie zijn: plaatsen van kennisdeling, innovatie en creatie. ARhus is ervan overtuigd dat bibliotheken niet alleen culturele actoren zijn, maar transversale kennishubs. Naast de verdere uitbouw van een traditionele collectie (al dan niet gedigitaliseerd), besteedt ARhus veel aandacht aan het uitbouwen van een divers netwerk van actoren, die tegelijkertijd gebruiker en toeleverancier van 'kennis' zijn. Zo verzekert ARhus zich ervan steeds over state-of-the-art kennis te beschikken en dit vanuit een grote mate van betrokkenheid van alle stakeholders. ARhus beschouwt zijn geprivilegieerde rol als 'trusted partner' hierbij als een unieke troef.