Dates multiples
We Add Heart Brussels (online)
Informations sur l'événement
Description de l'événement
WeAddHeart: Online heart-focused small group meditations
À propos de cet évènement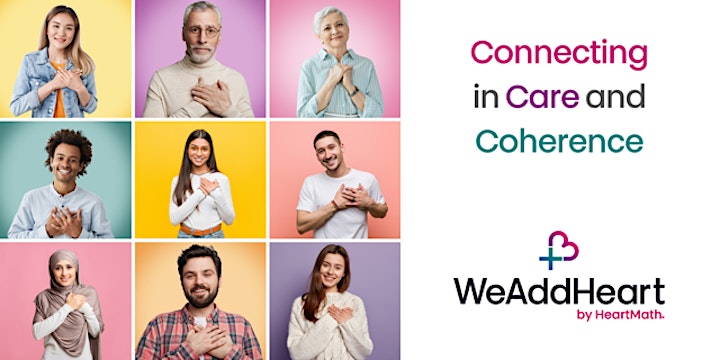 **Please note – all WeAddHeat groups are now running exclusively online during the Covid 19 pandemic**
What is WeAddHeart?
WeAddHeart is a rapidly growing international movement for people who feel the pull to connect with their own heart and the hearts of others, to live life more fully from the heart and to create a more heart-based world.
Small groups are coming together, online, across the world to collectively experience simple but powerful heart-focused meditation preactises. These practises improve our personal health and happiness, help us to connect with the hearts of others and to play our part in raising social and global consciousness with the aim of creating greater fairness, understanding and peace between peoples and nations.
What will happen during the WeAddHeart meditation?
Small groups meet online on the same day (and many at the same time) each month. We use Zoom and participation is free.
We begin each session with a quick and informal greeting before we move on to practising simple heart-focused techniques, similar to meditations.
Specifically, we place our attention in our hearts, on our breath and on creating and sustaining positive and elevated heart-based feelings like care, appreciation, gratitude, and compassion. We will then spend time directing these feelings to ourselves, towards our fellow group members, towards a particular individual, group or situation and then out into the world.
The techniques we practise create individual and group "coherence". Coherence is a real, measurable state characterised by increased order and harmony in our physiological (bodily) and psychological (mental) processes. It is an optimal state for individual health and for building deeper connections with others.
The technique practise lasts around 30 minutes.
Visit the WeAddHeart website to find your nearest group here: https://www.weaddheart.com
Watch the video to hear from WeAddHeart founder Gavin Andrews below.
Please note that all groups are now online only during the Covid 19 pandemic. When the situation allows many groups will return to meeting in person.
Who created WeAddHeart?
WeAddHeart is an expanding collaboration between organisations involved in heart-based living, personal development and raising consciousness. HeartMath® UK+IRL facilitates the running, administration and expansion of the community of group. Other international partners include HeartMath Benelux and Deutschland and, in Grece, Alternative Media.
WeAddHeart group facilitators are people who share the vision of a more peaceful, fairer and happier world.
If you would like to add more heart to your life, and WeAddHeart resonates with you, visit our website for more info and bookings: https://www.weaddheart.com