TomorrowPorts connect session: Building resilience in smart ports
What can ports do to prepare for the next crisis? Join us for an interactive mix of expert views, tech pitches and port challenges.
About this event
In recent years we have witnessed a surge in both disruptive events and Smart Port technologies. Ports need to ready themselves for the next crisis caused by technology failures with global effects (Evergreen accident), local scale accidents (involving dangerous goods or oil spills), effects on a regional scale of climate change (flooding) and their economic implications in the supply chain.
Are you interested to understand how ports can become smarter in how they tackle unforeseen business, security, climatological or ecological disruptions?
Do you want to know what your port can do with new technologies to prepare themselves for unforeseen disruptive events?
Join Antwerp Management School, University of Antwerp, NxtPort and Flows on November 25th for this online TomorrowPorts session, which will feature:
a panel discussion with experts on the strategic priorities to build resilience in ports. After the panel you can chat with the experts and pick their brains.
2 tech showcases of smart port applications to tackle critical resilience challenges, followed by an ask me anything session with these tech innovators.
2 reverse pitches from port authorities who present their resilience innovation challenges, to discuss solutions with their peers and tech innovators.
Join the TommorowPorts session on resilience in small and large ports, get inspired about what digital technology can do to make your port resilient and learn from best practices.
Webinar program: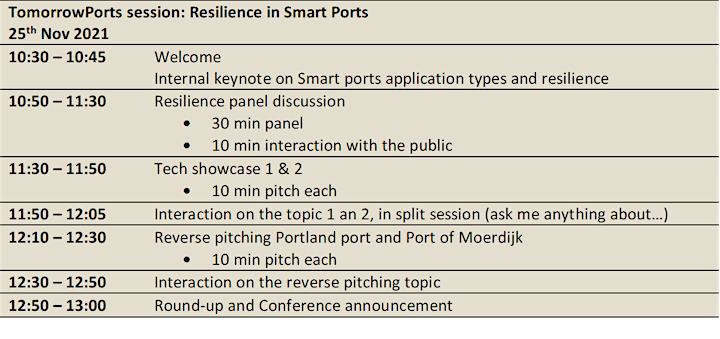 Organizer of TomorrowPorts connect session: Building resilience in smart ports