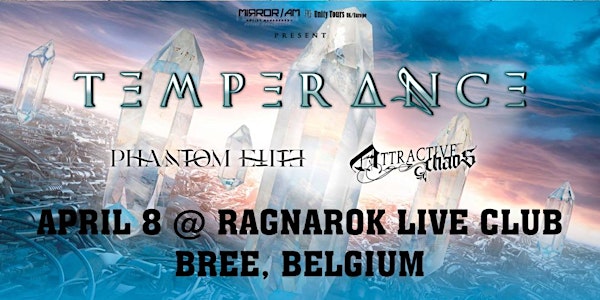 TEMPERANCE (IT)-PHANTOM ELITE (NL)-ATTRACTIVE CHAOS (FR/IT)@RAGNAROK,BREE
TEMPERANCE (IT)-PHANTOM ELITE (NL)-ATTRACTIVE CHAOS (FR/IT)@RAGNAROK LIVE CLUB,B-3960 BREE
Datum en tijd
Begint op za. 8 apr. 2023 19:00 CEST
Locatie
Ragnarok Live Club 1 Ziepstraat 3960 Bree Belgium
Beleid voor refunds
Neem contact op met de organisator om een restitutie aan te vragen.
Eventbrite-kosten zijn niet restitueerbaar.
Over dit evenement
4 uren

eTicket voor mobiel
International Women of Rock Tour/TEMPERANCE (IT)-PHANTOM ELITE (NL)-ATTRACTIVE CHAOS (FR/IT)
Headliner-Temperance
TEMPERANCE is where exceptional vocal melodies, energetic Metal guitar riffing and symphonic atmospheres meet in perfect harmony. Led by a unique vocal triad, TEMPERANCE manages to unite heaviness with an impressive level of catchy melodies that will make you want to push the repeat button instantly.
Different from most Symphonic Metal bands, TEMPERANCE brings together no less than three vocalists, all adding their own style and flavor to the ensemble. The combination of Alessia Scolletti's crystalline voice, the strong timbre of Michele Guaitoli and the rough vocals of mastermind and guitarist Marco Pastorino, make TEMPERANCE stand out completely. With Millions of Youtube views, hymns as 'The Last Hope In A World Of Hopes', ' My Demons Can't Sleep', 'Of Jupiter And Moons', 'Breaking The Rules of Heavy Metal', Diamante', seem to prove that point.
http://www.temperanceband.com/
https://www.facebook.com/temperanceband/
Direct Support-Phantom Elite
PHANTOM ELITE is an international metal band fronted by Marina La Torraca (Exit Eden, live vocalist for Avantasia) with guitarist Max van Esch, drummer Joeri Warmerdam, and featuring executive production by former After Forever guitarist and founder Sander Gommans. The band traffics in modern metal, combining elements of symphonic, progressive, and metalcore into their own unique concoction. Amazing songs, fantastic high energy stage show... a must see!!
https://www.phantom-elite.com/about
https://www.facebook.com/jointhePE
Additional Support-Attractive Chaos
Attractive Chaos is a Melodic Metal band from France & Italy founded by Emma Elvaston, Clement Botz and Pietro Paolo Lunesu.
Extremely powerful sound and so very talented. Ready to take Europe by storm and Chaos!!
https://linktr.ee/attractivechaos
https://www.facebook.com/attractivechaos