Dit evenement is afgelopen.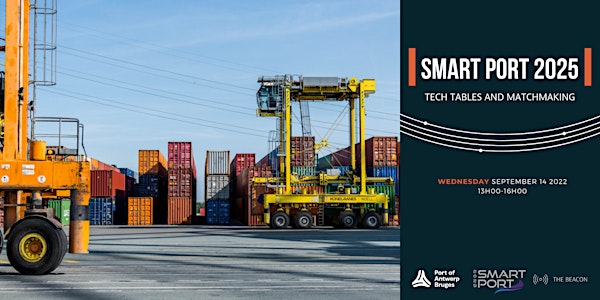 Future-proof your company with digital technology
Deep dive into four digital technologies that can make your port & logistics company future-proof
Waar en wanneer
Locatie
The Beacon 7 Sint-Pietersvliet 2000 Antwerpen Belgium
Kaart en routebeschrijving
Over dit evenement
Digital technologies can definitely support the sustainable growth of companies in the port economy. We selected four technologies that are rising steeply, and on which we'll host a discussion between technology providers and port economy companies.
The format of this event is a moderated and dynamic round table, that will be strictly moderated. In one hour time, participants will be informed about the state-of-the-art of the particular technology, and engage in a structural debate. The objective: to define the enablers to make your company future-proof with digital technology.
There are two rounds of four parallel sessions. Every participant can attend two sessions (e.g. AI and cyber security).
The purpose of this event is to raise awareness among port economy companies, but also to capture latent or manifest innovation cases of challenges.
PROGRAM
13:00: Start breakout sessions
Cyber security (Proximus, NVISO, e-BO Enterprises, IBM)
Blockchain & supply-chain interconnectivity (T-Mining, DxC Technology, Dockflow)
Space technology for smart ports (Verhaert)
Artificial Intelligence (IDLab Antwerpen-Ghent, Verhaert)
15.00: End of breakout sessions & plenary debriefing
15.30: Informal matchmaking
16:00: End of the event
FOR WHOM?
Companies in ports, logistics, transport and the broader port economy, that are looking for inspiration or are facing challenges in terms of digital technology. Technology companies, maritime and shipping companies, academics and everyone interested in digital technology.
PRACTICAL INFORMATION
This is a free and publicly accessible event.
We do charge a no-show fee of 50 EUR to registrants who don't show up, unless this has been timely communicated to the organization (24h).
This meeting will be held in English.