Locatie
Sheraton Hotel
Sheraton Hotel
1930 Zaventem
Belgium
Restitutiebeleid
Neem contact op met de organisator om een restitutie aan te vragen.
Eventbrite-kosten zijn niet restitueerbaar.
The Power of E-Commerce: "Strengthening your Cross-border Strategy"
Over dit evenement
In e-commerce, the world is your market. Even more so since the pandemic: consumers buy from webshops all over the world and spend more online than ever before. This year's BeCommerce Cross-border Summit broaches the subject of how online merchants can strengthen their cross-border strategy and adapt to a changing consumer behavior. You can find an overview of the timetable below.
The 8th BeCommerce Cross-border Summit is powered by FedEx and Ebay, two leading companies in the e-commerce world. FedEx will open the debates by sharing tips and tricks to sell and ship successfully across borders. Ebay will close the Summit with a keynote on how to access the global market. Our third partner, Brussels Airport Company, will discuss "Putting BAC e-commerce strategy in action" and made sure the venue already speaks to the imagination: with the Sheraton Hotel being only 39 steps away from Brussels Airport, you can't get much closer to crossing borders.
Furthermore, The International Post Corporation will share with us the key facts and figures from the Belgian cross-border e-commerce market in 2021. GfK will explain how understanding your customer's behavior is the first step to success, in combination with testimonials showcasing how cross-border can be used as a vital strategy to increase your return. The federal government (FOD Finance) will also clarify what is new for webshops selling abroad regarding VAT and customs legal requirements both for intra- and extra EU transactions.
Besides our keynote speakers, three more companies will share their expertise with us. Sendcloud deep-dives in the automatization of logistics processes for webshops, followed by Kevin Van Eijk from Chromeburner, who will discuss cross-border "to the core". Finally, Boombayeh & Chiiiq raises the subject of "FedEx as a customer service tool".
In a nutshell: various fascinating speakers will address interesting cross-border cases at a marvellous venue. Additionally, after the presentations, we provided some time to interact and get to know each other better during a networking moment. Be there!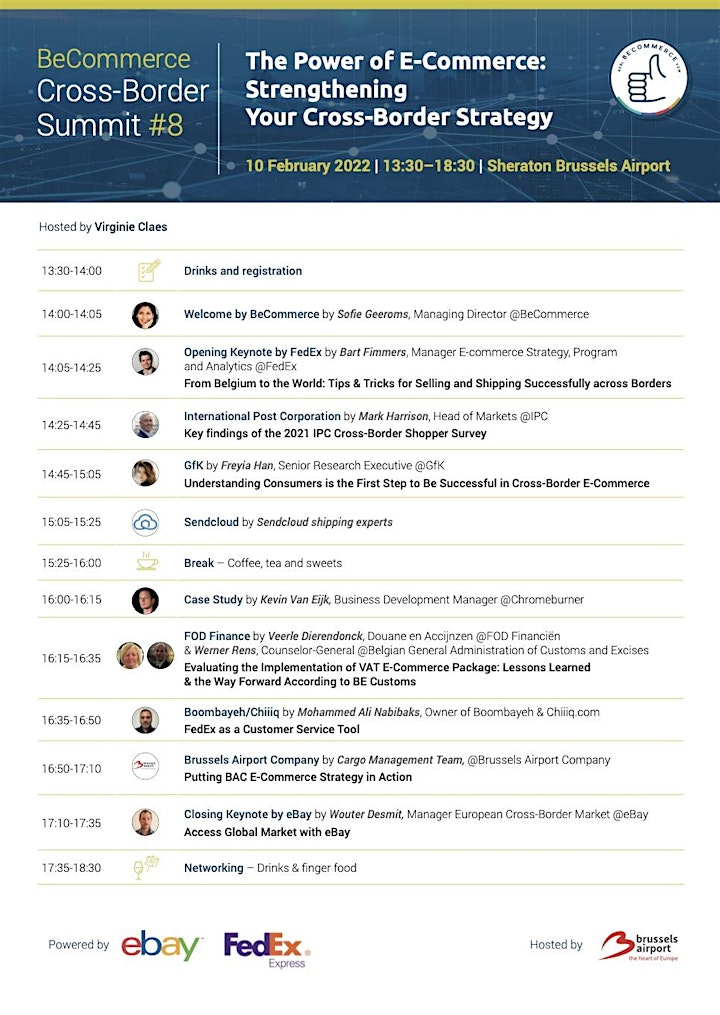 The summit will take place physically.