Dit evenement is afgelopen.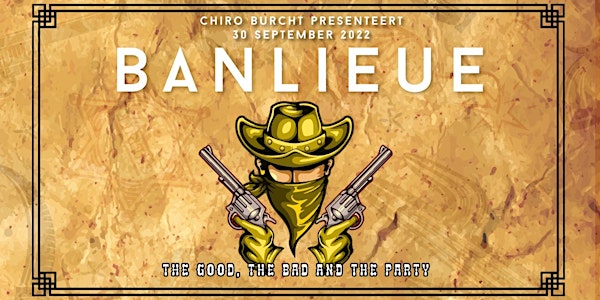 Banlieue VIII - The good, the bad and the party
Banlieue VIII - The good the bad and the party 30/09/2022
Waar en wanneer
Locatie
Jeugdcentrum Den Trechter 42 Dorp Oost 2070 Zwijndrecht Belgium
Kaart en routebeschrijving
Beleid voor refunds
Neem contact op met de organisator om een restitutie aan te vragen.
Eventbrite-kosten zijn niet restitueerbaar.
Over dit evenement
🤠🏜 Welcome lone ranger to the American frontier… 🏜🤠
In 2022 dompelt Banlieue zich onder in de wonderlijke wereld van The Wild West. Deze achtste editie belooft de ware outlaws te onderscheiden van de typische cowgirl/-boy. Trek je sporen aan, kruip in het zadel en rij samen met ons de zonsopgang tegemoet in deze epische herleving van het wetteloze Westen.
Op vrijdag 30 september zal Banlieue tonen waarom deze editie de laatste is in onze 'hateful eight'-saga. Deze avond verschijnt de ware aard van je vrienden/vriendinnen. Niets is verboden en alles is toegestaan. Dead or Alive? Take your shot gunslinger!
Feest met ons mee en ontdekt wie The Good, The bad & The Party is.
🤠🏜 ALGEMENE INFO 🏜🤠
* WIE? Chiro Burcht
* WAT? Banlieue VIII – The Good, The Bad & The Party
* WATER? Door de aanhoudende droogte in The Old West is er een schaarste aan water en kunnen we dit jammer genoeg niet serveren
* WARMETEN? *Coming lassoon*
* WAAR? JeugdSaloon Den Trechter
* WANNEER? vrijdag 30 september
* WAKOSTDA?
€7 (+servicekosten) VVK
€8 ADK
OP=OP, opgelet er kunnen maar 10 tickets per persoon worden besteld.
🤠🏜 YIPPIE-KAYEEEEET, KOM OF IK SCHIET 🏜🤠