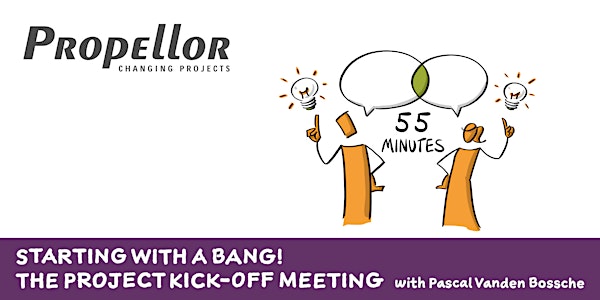 55 minutes — Starting with a bang! The project kick-off meeting
Starting with a bang! The project kick-off meeting
Beleid voor refunds
Geen refunds
Over dit evenement
55 minuten

eTicket voor mobiel
Starting with a bang! The project kick-off meeting
Bringing your project team together during the kick-off meeting, and inspiring team members so everyone is fully motivated, how do you go about doing that? That's the topic of this 55 minutes session.
If you received a discount code...
follow these steps to book your free ticket:
Click on the button 'Tickets' (in green).
In the screen with tickets that opens next, click on the text in blue 'Enter promo code'.
Enter the specific discount code you received and press Apply.
You'll notice that new tickets have appeared. Select the ticket you want and fill out the rest of the details.