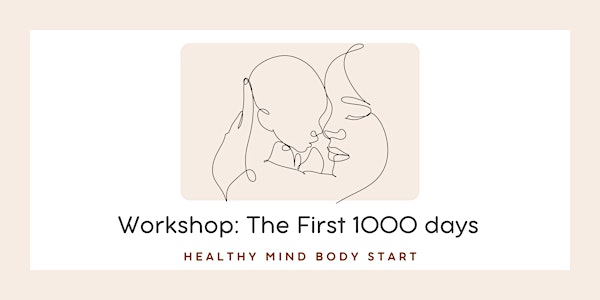 The importance of the First 1000 Days of Life
This workshop is for mothers to be, parents of newborns or children up to 2 years old, and for women or couples who are thinking of getting
When and where
Location
International House Leuven Tiensevest 60 3000 Leuven Belgium
About this event
Who is this workshop for?
This workshop is for mothers to be, parents of newborns or children up to 2 years old, and for women or couples who are thinking of getting pregnant. Also, anyone who is in charge of, or who works with, children from birth to the age of 2, such as teachers, babysitters, grandparents, etc. Essentially, anybody who is close to a baby in the First 1000 days of its life will benefit from this workshop.
We, as Juglans coaching, would like to collaborate with you and bring all our knowledge and love to make our future a healthier and safer place to be.
What is this workshop about?
Have you heard about the importance of the 1000 first days? From conception until the age of two, these First 1000 days of a human-being are extremely important, because the foundation for the baby's whole life is established at that time. The workshop: The First 1000 days focuses particularly on the growth and development of the baby's brain, for a healthy mind-body start that lasts throughout life.
Topics discussed during this workshop:
- Body-mind wellbeing before conception
- Nutrition during pregnancy
- Importance of co-regulation
- Effects of stress and trauma
- Safety and security
- Nutrition after birth until 2 years old
What are you going to discover during this workshop?
- The importance and impact of the first 1000 days
- What you can do to provide to your baby the best 1000 days of life
- ANS - Autonomic Nervous System - the Vagus Nerve from various perspectives
- How to help your baby / toddler to regulate
- The window of tolerance in parents and babies / children
- The still face experiment
- Stress and anxiety management for parents
- How nutrition can help with a healthy (brain) development
About our volunteers:
This workshop is held by 2 of the International House's volunteers, Veronica and Broes, who started Juglans, Mind Body Coaching for Internationals. Veronica is a transactional analysis, trauma, life and family coach, and Broes is a certified nutrition and health coach.
Veronica and Broes coach expats and their families, and have 20+ years of experience as expats themselves, so they understand the needs of internationals and their families. Complementing each others coaching skills, Veronica focuses on the mental wellbeing which is inherently connected to the body, and Broes focuses on the physical wellbeing which has a big impact on the mind as well. In return, both lead to better performance and enjoyment of life. They support parents in a practical, objective and non-judgemental way.