Dit evenement is afgelopen.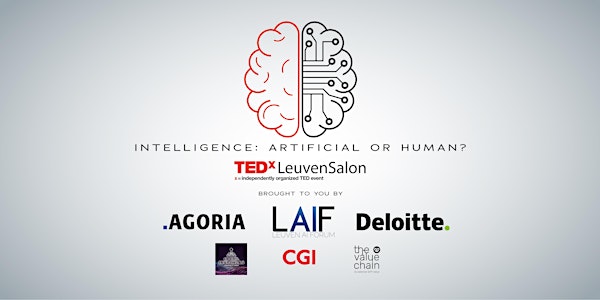 TEDxLeuvenSalon - Intelligence: Human or Artificia
TEDxLeuvenSalon - Intelligence: Human or Artificial? will finally be organised on 11 March 2022
Waar en wanneer
Locatie
Centraal auditorium gasthuisberg Onderwijs en Navorsing 1 Herestraat 49 3000 Leuven Belgium
Kaart en routebeschrijving
Beleid voor refunds
Neem contact op met de organisator om een restitutie aan te vragen.
Over dit evenement
TEDxLeuvenSalon – Intelligence : Artificial or Human will finally happen!
After more than two years of preparations, in the evening of 11 March, 7 speakers will talk about the origins, ethics, policies and limits of intelligence,  as well as how human and artificial intelligence intertwine. One of the speakers is an author of the Ethical guidelines on AI proposed by the European Commission and is a member of the High Level Exert Group on AI of the European Commission, that proposed the EU AI Act. The last speaker of the night is doing a PhD in Computational Humour, who will close the night with a talk he gives with slides his AI system will generate based on your input during the evening itself!
CHECK THE COMPLETE LINEUP HERE: http://tedxleuven.com/TEDxLeuven_AOH
Note: you have to bring your CST (Covid Safe Ticket) and it has to be valid. See you there!