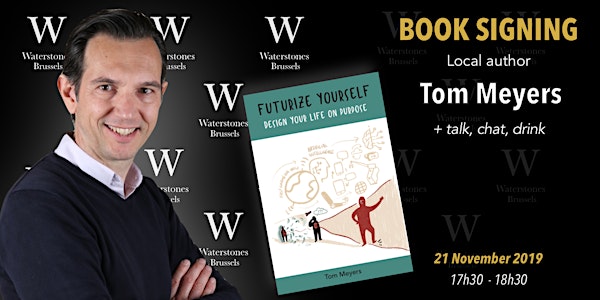 Talk and Book Signing Waterstones Brussels
How do you thrive and stay healthy in a fast-changing world that will see more changes in the next 20 years than in the previous 300 years​?
Date and time
Thu, 21 Nov 2019 17:00 - 19:00 CET
Location
Waterstones 71/75 Boulevard Adolphe Max 1000 Bruxelles Belgium
About this event

In "Futurize Yourself" I describe my transformation story, how three questions saved my life 20 years ago, gave me a sense of purpose and helped me find my potential which in turn helped me to transform myself from a good for nothing, depressed, suicidal and unhappy person to become on purpose the international therapist, speaker, trainer and author I was born to be.
In a fast-changing world where more and more is digitised and automated it is what makes you unique, your potential and skills that will become the most important quality to navigate the changes ahead with success and for being healthy, happy and fulfilled.
Futurize Yourself is a guide how to find your innate potential and become who you were born to be from within.
Sign-up and get a chance to buy a signed copy of my book at Waterstones on 21 November 2019.
Book: €17.99
About the organiser
Tom Meyers was born in Antwerp, Belgium. After training to become as a chef, he travelled the world and worked as a waiter and sommelier in hotels and on Cunard's flagship the 'Queen Elisabeth 2'. At 29 he started his own business, a gourmet deli — which failed and led him into an existential crisis, wanting to give up on life. Three questions saved his life, gave him a sense of purpose and helped him to become the person he was born to be.
Today, Tom is an Osteopath and Body-centred Stress Coach with a private practice in Brussels, a future-forward thinker, keynote speaker, author and the founder of the 'Reaset Approach,' a novel body-mind and educational approach to manifest your best future 'stress resilient' self today.
As a future-forward author and speaker, Tom focuses on the challenges that new technologies such as AI, AR, VR, robotics, IoT and space tourism represent for the body, mind and spirit. Through his Futurizing Yourself concept, he shares his knowledge on how to "design your life on purpose" in order to navigate — and thrive in — our fast-changing, ever more complex and inspiring world.