Dit evenement is afgelopen.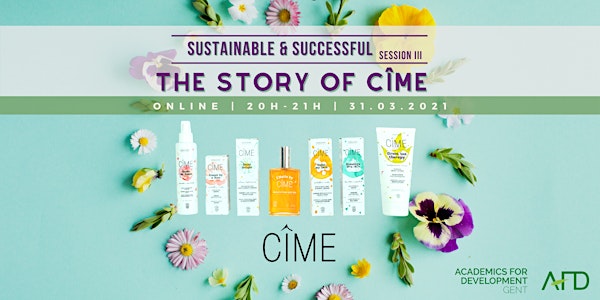 SUSTAINABLE & SUCCESSFUL session III : The Story of CÎME
For our very last online session of the series 'Sustainable & Successful' we invited Isabel Coppens from the inspiring CÎME brand !
Over dit evenement
AFDGent presents a three-part event! During three consecutive Wednesdays AFDGent will give the floor to sustainable and successful entrepreneurs, who will present to you their innovative concept. Each (online) session will be short but powerful!
______________________________________________________________________
Event link (Airmeet): https://www.airmeet.com/e/734e39c0-921f-11eb-b4fa-db441adc71de
SESSION III: Honestly Beautiful !
CÎME is a Belgian skincare brand, offering 100% natural products and donating to non profit initiatives in the Himalayas. Let's be honestly beautiful!
"From the sundrenched plains of the Nepalese Terai, over the lush forests of Bhutan, to the high Himalayan mountain deserts of Ladakh and Mustang, the Himalaya offers an incredible biodiversity that is hard to match anywhere.
As globalization encroaches upon even the far corners of this spectacular mountain range, local communities continue to practice ancient traditions of agriculture, herbal medicine and traditional craftsmanship, that help them survive in these difficult environments.
At CÎME they believe it is possible to bring out the best in these traditions, in respectful consideration of man and nature.
"
In short, CÎME highly values the support of local farmers and communities, the use of pure and biological ingredients and the respect for our planet!
We will welcome Isabel Coppens, Co-Founder of CÎME skincare to go into more detail about:
◊ the story of their sustainable and successful brand
◊ the brand's philosophy
◊ their Fair Trade projects in Nepal
◊ the sustainable initiatives they take
This online event will take place on Wednesday the 31st of March from 8pm until 9pm and is the last session of the Sustainable & Successful-series. It is completely free, but we would encourage you to register.
Follow all updates on our Facebook event page through the following link: https://fb.me/e/B1m662FG
Event link (Airmeet): https://www.airmeet.com/e/734e39c0-921f-11eb-b4fa-db441adc71de
We hope to see you then!
The AFDGent-Team
More information about CÎME? www.cime-skincare.com