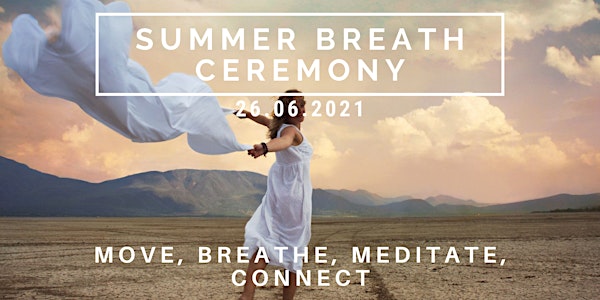 Summer Breath Ceremony
Move, Breathe, Meditate, Connect
When and where
Location
't Werkhuys 13 Zegelstraat 2140 Antwerpen Belgium
Refund Policy
Contact the organizer to request a refund.
Eventbrite's fee is nonrefundable.
About this event
Deze adem ceremonie is een prachtige/krachtige manier om de zomer te starten. We gebruiken technieken uit de BBTRS (www.biodynamicbreath.com) die ervoor zorgen dat je energie vrijer kan stromen, dat je spanning kan ontladen (mentaal, emotioneel én fysiek) en dat je vrijer en bewuster in het leven staat.
We beginnen de groepsceremonie met actief bewegen en meditatie, gevolgd door een ademcirkel, waarin we een specifieke ademtechniek gebruiken (deep connected breathing). Deze techniek activeert die plekken waar chronische stress, spanning en niet-verwerkte emoties vastzitten. Op een veilige manier zoeken we deze spanningsgordels op, zodat de geblokkeerde energie kan ontladen en je je weer energiek, rustig en vrij voelt, in staat ook om je op een authentieke manier te verbinden met jezelf en met anderen.
BEGELEIDERS
Anneleen Rabijns is a certified BBTRS practitioner, yoga teacher and gestalt therapist, holding space for individuals as well as groups. She's experienced in working with pain patients, burn-out prevention and experiences of loss. Her passion is to help people reconnect with their body again, use breathing techniques to self-regulate the nervous system & regain a feeling of savety, vitality, purpose and genuine connection. More info: https://stilpunt.be of https://www.facebook.com/embodiedbreathing
Jan Mouton is initially graduated as Master in Philosophy. As a universal spirit he has specialized in many coaching and therapy methods and has more than 20 years of experience in guiding change both on individual and group level. In his healing practice Jan focusses on freeing blocked energy via trauma breath healing, shamanic trance work, healing movement and systemic constellations. He also works within organizations on creating healthy systems, team dynamics and conscious leadership. More info: www.janmouton.com
CONTRAINDICATIES
(vroege) zwangerschap, hartproblemen, serieuze psychiatrische klachten, astma, recente operaties, epilepsie, ernstige diabetes.
Laat je zeker niet ontmoedigen door deze info: ademwerk is over het algemeen een heel aangename en bevrijdende ervaring.
Contacteer ons gerust bij twijfels of vragen hierover!
PRAKTISCH
't Werkhuys - Theaterzaal: Zegelstraat 13, 2140 Borgerhout
van 14u (inlopen vanaf 13u45) tot (ongeveer) 17u
Wat breng je mee?
- losse comfortabele kledij
- een yogamatje, kussentje, dekentje
- een flesje water
Het is aan te raden vooraf 'licht' te lunchen, zodat je nog vrij kan bewegen!
TICKETS
onkosten 50€