About this event
Polemiek rond architectuur en stedelijke transformatie is niet nieuw, maar een fenomeen dat sterk ingebakken is in de historische evolutie van de stad. De transformatie van de Antwerpse kaaien is een project van lange adem. Dertig jaar geleden zette Stad aan de Stroom het belang van de kaaien voor Antwerpen op de agenda. Tussen stad en stroom, een masterplan voor 7 km Antwerpse kaaien, werd tien jaar geleden aangevat via een brede dialoog met de Antwerpenaar.
Ter uitvoering van het Masterplan werd het opgedeeld in verschillende deelprojecten, elk volgens een eigen ritme en eigen procedure waarbij het moeilijk wordt voor menig burger en expert het te blijven opvolgen. De realisatie van de kaaien ter hoogte van het Zuid en Sint-Andries deelde in de prijzen (voor kwalitatieve publieke ruimte) maar kreeg ook veel kritiek door het ontbreken van groen en het kale karakter.
Ook de recente discussies rond de herbestemming en uitbreiding van het Steen deden heel wat stof opwaaien waarbij een brede waaier aan actoren zich mengde in het debat. Vele stedenbouwkundigen hekelen dan weer de mobiliteitsvisie van de kaaien die teruggrijpt naar principes uit een vorige eeuw. Het is duidelijk dat de kaaien belangrijke publieke ruimte vormen voor de Antwerpenaar en dat de verwachtingen hoog liggen.
In de gesprekken die worden gevoerd wordt vaak naast elkaar gepraat, door burgers, experts, ambtenaren en politici. Het is niet duidelijk op welke basis van kennis en inzichten het debat wordt gevoerd. Welke ambities schuilen achter de bouwwerven en plannen schuil? Hoe wordt de kwaliteit op korte en lange termijn bewaakt, en is daarin ook plaats voor voortschrijdend inzicht waarbij de noodzakelijke aandacht aan de hete hangijzers van vandaag - gezondheid, klimaat, circulariteit - kan worden gegeven?
Stadsform, in samenwerking met het Vlaamse Architectuurinstituut en de Faculteit Ontwerpwetenschappen van de Universiteit Antwerpen reiken met 'Stad aan de stroom?' een platform voor dialoog aan over de ambities van deze belangrijke publieke ruimte in Antwerpen. In een reeks van events zullen we verschillende stemmen aan het woord laten.
We vatten deze reeks aan 22 juni om 20:00 met sprekers:
Erik Wieërs (Vlaams Bouwmeester)
Peter Vermeulen (Stramien)
Inge Bertels (UAntwerpen)
Dirk Lauwers (UAntwerpen)
Tom Coppens (UAntwerpen, moderator)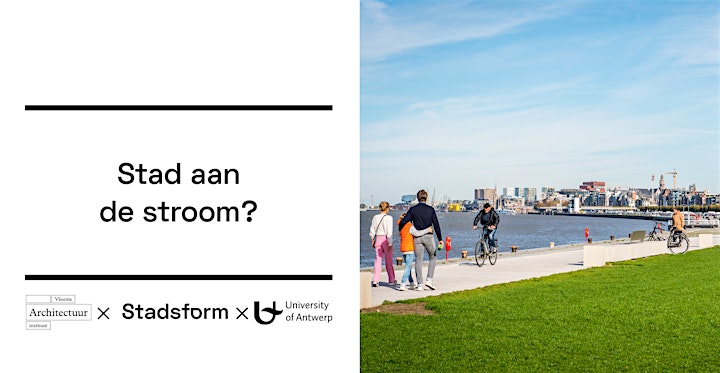 Organizer of Stad aan de Stroom?
EN
Stadsform is a center for dialogue about the city of tomorrow based on the Stadswaag in Antwerp, Belgium. Stadsform hostst talks, screenings, workshops, walks and more about urgent urban issues in close collaboration with local and international partners.
More info on www.stadsform.be
NL
Stadsform is een centrum voor dialoog over de stad van morgen op de Stadswaag in Antwerpen. Stadsform organiseert talks, screenings, workshops, stadswandelingen en meer over urgente urbane thema's in nauwe samenwerking met lokale en internationale partners.
Meer info op www.stadsform.be