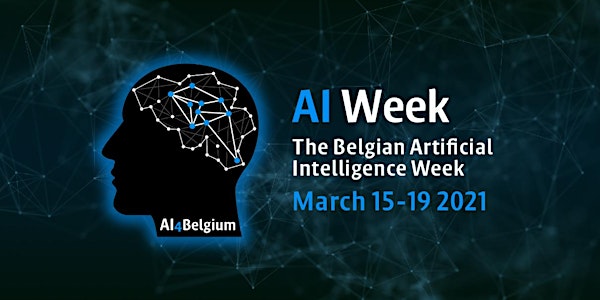 SPF Economie & AI4Belgium : Launch of the SME Campaign on AI adoption
THE BELGIAN AI WEEK. One week of interactive events on artificial intelligence. For citizens, business, researchers and the public sector.
About this event
SPF Economie & AI4Belgium : Launch of the SME Campaign on AI adoption (NL/FR - TECH BOSA)
Fr
L'intelligence artificielle est en plein boom et alimente bien des conversations ! Pour certains, c'est encore de la pure science-fiction. Pour d'autres, c'est une réalité déjà bien présente dans notre environnement, appelée à se développer de manière exponentielle dans les années qui viennent.
Une chose est sûre, elle ne laisse personne indifférent ! Mais peut-elle devenir un atout pour les PME belges des secteurs non technologiques ? Leur sera-t-elle accessible ? Quels avantages peut-elle leur apporter pour améliorer leur productivité, la qualité de leurs produits et services ou leur relation avec leurs clients ? Ne présente-t-elle pas aussi certains risques ? Toutes ces questions seront au cœur de l'événement en ligne proposé par le SPF Economie, en présence du Ministre fédéral des Indépendants et des PME, Monsieur David Clarinval, dans le cadre de la semaine belge de l'Intelligence Artificielle, organisée par la plate-forme AI4Belgium.
La campagne 2021 de promotion et de démystification de l'intelligence artificielle pour les PME du SPF Economie y sera présentée, de même que des témoignages inspirants et des outils de nos partenaires, pour explorer le potentiel de cette technologie pour le développement des PME. Cette conférence gratuite et bilingue FR-NL s'adresse à tous les dirigeants de PME, et particulièrement à ceux qui commencent leur chemin dans la transition digitale.
Nl
Artificiële intelligentie veralgemeent zich pijlsnel en is een hot topic! Sommigen beschouwen ze nog steeds als science fiction, terwijl anderen ze al duidelijk in de omgeving waarnemen en weten dat ze zich exponentieel zal ontwikkelen.
Kan AI een troef betekenen voor Belgische KMO's in niet-technologische sectoren? Zal ze voor hen wel toegankelijk zijn? Welke voordelen houdt AI in om hun productiviteit, de kwaliteit van hun producten en diensten of hun relatie met hun klanten te verbeteren? Gaat AI eventueel met bepaalde risico's gepaard? Al deze vragen zullen centraal staan tijdens het online-event dat de FOD Economie, in aanwezigheid van de federale minister voor Zelfstandigen en KMO's, de heer David Clarinval, voorstelt in het kader van de Belgische Week van de Artificiële Intelligentie, georganiseerd door het platform AI4Belgium.
De campagne 2021 van de FOD Economie om artificiële intelligentie voor KMO's te promoten en te demystifiëren zal er worden voorgesteld, evenals inspirerende getuigenissen en tools van onze partners om het potentieel van deze technologie voor de ontwikkeling van KMO's te verkennen. Deze gratis en tweetalige NL-FR conferentie is bedoeld voor alle KMO zaakvoerders, en in het bijzonder voor diegenen die hun eerste stappen zetten in de digitale transitie.
ENG
Artificial intelligence is booming and is fueling many conversations! For some, this is still pure science fiction. For others, it is a reality already present in our environment, called to develop exponentially. Can it become an asset for Belgian PME in non-technological sectors? Will it be accessible to them? What advantages can it bring them to improve their productivity, the quality of their products and services or their relationship with their customers? Doesn't it also present certain risks? All these questions will be at the heart of the online event proposed by the SPF Economy, in the presence of the Federal Minister for Independents and PME, Mr.
David Clarinval, as part of the Belgian artificial intelligence week, organized by the platform -form AI4Belgium. The 2021 campaign of the SPF Economy to promote and demystify artificial intelligence for PME will be presented there, as well as inspiring testimonials and tools from our partners, to explore the potential of this technology for the development of SMEs. This free and bilingual FR-NL conference is aimed at all PME managers, and particularly those who are starting their journey in the digital transition.
TIMING
3:31 : OPENING - WELCOME - INTRODUCTION OF THE SPEAKER FR/NL
3:36 : INTRODUCTION AND LAUNCHING OF THE COMMUNICATION CAMPAIGN BY MINISTER DAVID CLARINVAL
3:45: KEYNOTE : OVERVIEW + TESTIMONIALS + PRESENTATION
4:28 : CLOSING - INTRODUCING NEXT SESSION & RELATED EVENTS
With David Clarinval, Nathanaël Ackerman, Ségolène Martin, Gregory Reichling, Jean-Louis Van Houwe, Kevin Françoisse, Philippe Meire, Jan Van Looy, Nicolas Van Zeebroeck, Margareta Vermeylen, Julie de Bergeyck
Livestream here
-----------------------------------------------------------
AI Belgian Artificial week - 15/03/2021 -> 19/03/2021
Discover also the detailed program of the week
Découvrez aussi le programme détaillé de la semaine
Ontdek ook het gedetailleerde programma van de week