Dit evenement is afgelopen.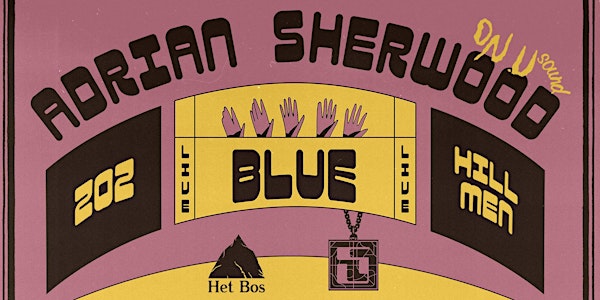 Souvenirs From Imaginary Cities Label Night W/ Adrian Sherwood & more
Souvenirs From Imaginary Cities touch down in Het Bos pt1
Datum en tijd
vr. 17 feb. 2023 21:00 - za. 18 feb. 2023 05:00 CET
Locatie
Het Bos 5-7 Ankerrui 2000 Antwerpen Belgium
Beleid voor refunds
Neem contact op met de organisator om een restitutie aan te vragen.
Over dit evenement
Attention all music lovers and dub fanatics! We are thrilled to announce our first label night featuring Dub legend Adrian Sherwood, Blue, ZoZ [Sagat & Weird Dust] and Hill men at Het Bos in Antwerp. Due to a strange and lingering virus we had to postpone the celebration of our two releases by Mantris and Blue, so we need some catching up to do! Get ready for an intimate event with some phenomenal artists:
First of all, ADRIAN SHERWOOD (UK)
Adrian is a pioneering figure in the world of music, known for his experimental approach to production and his collaborations with a variety of artists. His signature sound, blending elements of reggae, dub, and electronic music, has made him a beloved figure among fans of these genres. Think On-U Sound Records, African Head Charge, Dub Syndicate and collaborations with countless artist like Lee scratch Perry, Sly, Prince Far I and Suns of Arqa to name a few. 
The guys from the second release: BLUE (UK) 
29 years ago Chris Mann and Paul Darking released their debut EP on Andrew Weatherall's (RIP) Sabres Of Paradise. A year later, another EP came out on the same imprint, followed by two albums on Weatherall's label Emissions Audio Output and a bunch of EP's on Emissions' sublabels. The start of the new millennium brought a stop to the creative output of the production duo known as Blue. After a 22 years hiatus and a new release (from unheard music made between '97 and '01) last year they are once again ready to bring you an incredible live set!
ZoZ aka Sagat & Weird Dust (BE)
ZoZ is Brussels' most recent Dub / Percussive noise outfit consisting of Sagat and Weird Dust. They experiment with rhythmical structures emphasising the unhinging of circular balanced polymeters. Think shredded percussive shapes on top of a corroded sub bass framework.
Hill men (BE)
The Hill men brothers, and founders of the label will happily guide you trough this musical evening, blending everything together with their eclectic and adventurous musical connaissance!
Join us at Het Bos on 17.02.2023 for this exciting night filled with wondrous sounds!
Over de organisator
Het Bos is een artistiek huis middenin de stad Antwerpen.
Een huis voor artiesten, bricoleurs, makers, denkers en de anderen.
Het Bos doet niet alleen kunst maar ook aan koffie, soep, biopils, tooghang, gewauwel en feest. Het Bos houdt van verschil, schevigheid en dingen die afwijken. Het Bos denkt en handelt duurzaam, dat is haar natuurlijke staat. Het Bos op zich is relatief eeuwig, de dingen in Het Bos zijn relatief tijdelijk. Het Bos is een permanent experiment. 
In het Bos schuilen:
een overdagcafé met koffie, pils en kleine kaart
een concertzaal
expositieruimte
ruimtes voor theater, film en andere show
creatie- en residentieruimte
vrije werk- en ontmoetingsruimte / recreatieruimte
een keuken en een beweeglijk restaurant
een tuin
hoeken en kanten
Elke plek in Het Bos is toegankelijk voor rolstoelgebruikers.
Het Bos is een Jeugdcultuurcentrum ondersteund door de Stad Antwerpen en een multidisciplinaire Kunstenwerkplaats ondersteund door de Vlaamse Gemeenschap.
Het Bos
Ankerrui 5 – 7
2000 Antwerpen
www.hetbos.be
info@hetbos.be