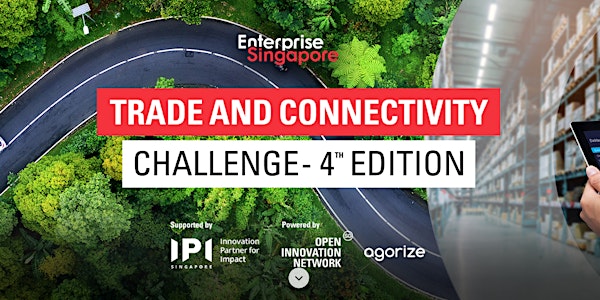 Singapore Trade & Connectivity Challenge - Briefing
Pilot your trade & connectivity solutions with Bolloré, PSA, IMC, Equatorial, Tionale and Toll
Date and time
Tuesday, February 7 · 1 - 2am PST
About this event
The Singapore Trade and Connectivity Challenge (TCC) is an annual competition that invites technology providers to suggest and co-create solutions to actual, tangible innovation challenges.
The challenges are put forward by corporates, in this case Bolloré, PSA, IMC Pan Asia Alliance, Equatorial, Tionale and Toll.
The TCC is a well-managed and structured process, that supports startups and scale-ups in pitching and working out their solution, over a period of three months. The solutions that will be awarded at the end of the process, will benefit from a price pool of SGD $100.000.
Submissions for participations need to be done before March 1st, 2023.
Program
The objective of this videocall is to explain the TCC, its procedure and the challenges to interested parties. The organizer, Enterprise Singapore, will present the project and interact with interested startups and scalups.
The challenges
Bolloré: How can we develop an automated solution that can un-box a product, label and place it back into the packaging? The proposed solution is to be applicable for products in different shapes and sizes (jar, tube, bottle, box, cylindrical etc.).
Equatorial Marine Fuel Management Systems: How can we develop an application that generates optimal voyage routes for vessels, using real time data, especially at congested port(s); thereby reducing unnecessary fuel consumption?
IMC Pan Asia Alliance: How can we develop an application that replaces the current manual way of consolidating information from different sources; and instead, streamline information (e.g., demand and supply imbalances of cargo flows) to provide insights and support commercial decisions on vessel deployment?
PSA: How can we provide consumers with information on the carbon footprint of the life cycle of products?
Tionale: How can details on packaging be automatically captured and recorded in the enterprise resource planning (ERP) system?
Toll (1): How can we develop a teleoperated solution that can retrofit onto brand-agnostic industrial trucks?
Toll (2): How can we improve visual identification of Case/Carton-based inventory within warehouses for autonomous cycle counting systems?
More information: https://tradeandconnectivity.innovation-challenge.sg/en/challenges/4th-edition
Practical
This webinar is open to the public and freely accessible. The webinar will be held in English.
About the organizer
At The Beacon you'll be able to work, learn, network and develop tomorrow's technologies. Far from being just another business center, The Beacon is an Internet of Things and Artificial Intelligence community and the launchpad for your product. Our bricks and mortar are the cradle of an internationally connected IoT ecosystem, crafted and managed by a whole team.
- Innovation for industry, logistics and smart cities! -