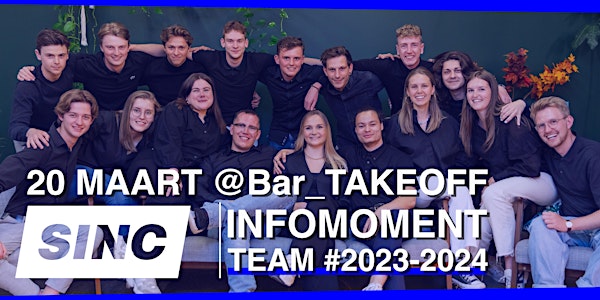 SINC Infomoment 23-24
SINC gaat op zoek naar geschikte nieuwe talenten om ons team te versterken in het komende academiejaar 23-24!
Date and time
Monday, March 20 · 6:30 - 8:30pm CET
Location
GATE 15 15 Kleine Kauwenberg 2000 Antwerpen Belgium
About this event
SINC WANTS YOU! ⤵️
Het academiejaar is nog niet afgelopen en we hebben nog heel wat leuke evenementen voor de boeg, maar het is weer tijd om de toekomst van SINC te verzekeren. Daarom zijn we op zoek naar geschikte nieuwe talenten om ons team te versterken in het komende academiejaar '23-'24. Met SINC verspreid je de boodschap van ondernemen in de brede zin én organiseer je evenementen om studenten te inspireren, informeren en activeren. Ons doel? De ondernemingszin bij elke student in Antwerpen aanwakkeren en dit in de brede zin van het woord.
WAAROM INSCHRIJVEN?
🤝 Heb jij ook zin om met SINC ontzettend veel interessante en leuke mensen te leren kennen?
💪 Kom je graag terecht in een ambitieus team?
💥 Ben jij een student en wil je de zotste studentenevents van Antwerpen organiseren?
💡 Ben jij een Marketing- / Event- / PR-talent? Of ben je gewoon super leergierig?
🔍 Breid jij jouw vriendenkring én netwerk graag uit?
JA! ✅ Op alles? SINC is helemaal iets voor jou!
WELKE FUNCTIES ZOEKEN WE?
🤝 PR Manager
⚡️ Event Director & Event Manager
💡 Marketing Manager (Community / Content Creator / Media Producer / Copywriter / Designer / Strateeg)
WAAROM NAAR HET INFOMOMENT KOMEN?
Wil je meer weten over wat een jaar bij SINC allemaal inhoudt als vrijwilliger? Waar we naar op zoek zijn en hoe jij je steentje kan bijdragen aan meer ondernemerschap in Antwerpen? Schrijf je snel in voor het infomoment, we leggen in alle geuren en kleuren uit wat jij mag verwachten als SINC teamlid.
PRAKTISCH INFOMOMENT ⤵️:
Locatie: Bar_TAKEOFF
Wanneer: 20 maart 2023
Deuren open: 18u30
Geen stress! Je kan al je vragen stellen op het infomoment, solliciteren kan je nadien nog doen.
SOLLICITATIES ⤵️:
De sollicitaties gaan door van vrijdag 24 maart t.e.m. zondag 26 maart.
Wil je al solliciteren zonder het infomoment? Solliciteer dan via dit formulier.
About the organizer
Met SINC bieden we de student een frisse kijk in de wereld van het ondernemen. Dit doen we door studenten te informeren, inspireren en activeren rondom het ondernemerschap.