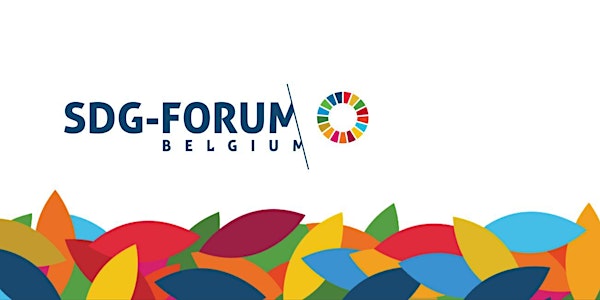 SDG Forum 2021
The SDG Forum brings the Sustainable Development Goals from, for and by everyone.
When and where
Location
Gare Maritime - Tour & Taxis 3 rue Picard 1000 Brussels Belgium
About this event
IMPORTANT
When registrating, please indicate :
which workshop sessions you want to participate to, choose one in the morning session and one in the afternoon session. You can only attend one session in each slot.
whether you will stay to have a drink with us during the reception.
Please be aware of the following:
The SDG Forum is accessible for people with a Covid Safe Ticket
Lunch is not included. You can bring your own lunch or buy your lunch at Tour & Taxis. There are several restaurants on site and the SDG Forum will also place 8 Food Trucks at your disposal.
Please check our website for more info on the SDG Forum Programme and the Covid Safe ticket: https://sdgforum.be/
________________________________________________________
Program
MORNING 
08:30 Opening & Registration
09:05 Welcome by Emilie Harnie
09:10 Keynote 1- Will Steffen on global sustainability trends
09:30 SDG message from Prime Minister Alexander De Croo (TBC)
09:40 Keynote 2 - Janez Potocnik (TBC)
10:15 Societal Debate - moderator: Gie Goris
Business representative: Vanessa Biebel (VBO-FEB)
NGO representative
Union representative: Sacha Dierckx (ABVV)
Youth representative
10:55 Coffee break
11:20 Workshops - morning session
find detailed description of our workshops on https://sdgforum.be/
12:35 Lunch break
AFTERNOON
14:00 Workshops - afternoon session
find detailed description of our workshops on https://sdgforum.be/
15:15 Coffee break
15:40 Keynote 3 - Phoebe Koundouri (TBC)
16:15 Ministrial Debate - moderator: Gie Goris
Celine Tellier (TBC)
Zakia Khattabi
Hilde Crevits (TBC)
VVSG : Wim Dries (TBC)
16:45 Keynote 4 - Prof. Jeffrey Sachs
17:00 Closing by the Minister of Sustainable Development, Zakia Khattabi
17:05 Reception
19:00 End