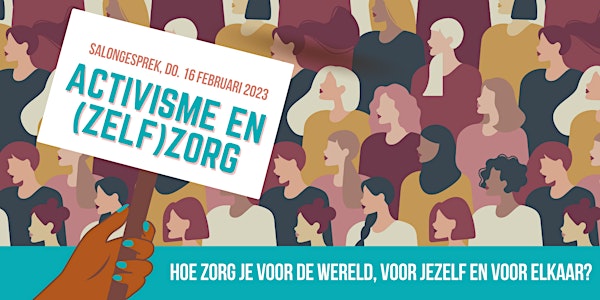 Salongesprek '(zelf)zorg en community building bij activisten'
Bezig zijn met activisme kan een uitputtend effect hebben. Tijdens dit salongesprek bespreken we de uitdagingen en community building.
Date and time
Thursday, February 16 · 7 - 10pm CET
Location
TOKO139 139 Statiestraat 2600 Antwerpen Belgium
About this event
Bezig zijn met activisme kan een uitputtend effect hebben, zowel op korte als lange termijn, zowel mentaal als fysiek. De rechtvaardigheid waar we als activisten voor vechten botst vaak op veel weerstand, zowel in onze persoonlijke levens als in het publieke debat. Daarnaast lijkt de strijd soms oneindig en uitzichtloos. Wanneer een doel uiteindelijk bereikt is, ligt de volgende uitdaging alweer op de loer. Handvatten hebben om voor jezelf te zorgen en voor je activistische bondgenoten, is dus cruciaal.
Wat zijn de oorzaken van deze uitputting, hoe ga je om met de impact ervan, en hoe kan je duurzaam blijven strijden zonder verbitterd en uitgeblust te raken? Hoe kan je in activisme blijven geloven en hoe kan je weerbaarheid en veerkracht opbouwen en/of onderhouden?  Hoe kunnen we elkaar als mede-activisten ondersteunen, zodat niet alle zorg van onszelf hoeft te komen?
De sprekers zijn:
Samira Azabar (sociologe, doctoreert rond de politieke participatie van moslims en lid van BOEH!), 
Nyanchama Okemwa (dekoloniaal deskundige, Pan-Africanist en coach bij Hand in Hand) en 
Ama Kissi (doctor in de psychologie en erkend klinisch psycholoog gespecialiseerd in de gezondheidspsychologie en leerpsychologie).
De moderatie gebeurt door Habiba Boumaâza (documentairemaker, schrijver en medewerker bij Kif Kif).
Op deze avond wordt ook de Kif Kif tool Helend Schrijven gelanceerd, het is een vormingsreeks die je in je organisatie kan aanbieden, en waarbij slachtoffers van racisme aan de hand van creatieve schrijfoefeningen in groep kunnen werken aan weerbaarheid en veerkracht.
Wanneer? Donderdag 16 februari 2022
Hoe laat? 19:00 uur tot 22:00 uur
Waar? Het salongesprek vindt plaats bij Toko139
Het salongesprek vindt plaats bij Toko139.
About the organizer
Kif Kif is een interculturele beweging die strijdt voor gelijkheid en tegen racisme. Kif Kif bouwt mee aan een solidaire, democratische en interculturele samenleving. Via kritische, sensibiliserende, interactieve en educatieve initiatieven geeft Kif Kif mensen de instrumenten in handen om een andere stem te laten horen in het maatschappelijk debat over de interculturele samenleving. Kif Kif versterkt op die manier actief individuen en groepen die uitgesloten worden van grondrechten of die gediscrimineerd worden. We ondersteunen hen zodat ze zich gesterkt voelen om op te komen voor hun rechten.