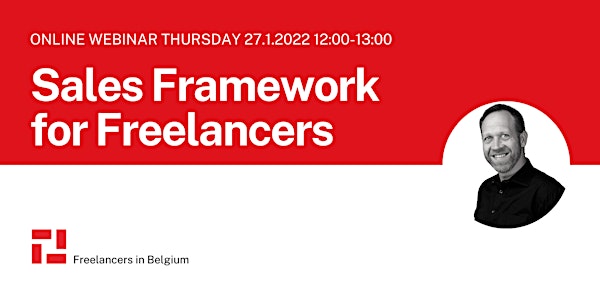 Sales Framework for Freelancers
Get a more consistent revenue flow by making sure you have enough and the right customers lined up for you.
Refund Policy
Contact the organiser to request a refund.
Eventbrite's fee is nonrefundable.
About this event
Have you ever been in this situation: You are finishing up a project and you were too busy to make sure you have the next customer lined up? You know prospecting is important, but you are putting it off...
Or you are thinking about starting or have just started out as a freelancer and have no idea how you will get customers.
Avoid the uncertainty and join this Sales Framework for Freelancers webinar. In this webinar, my goal is to help you get a more consistent revenue flow by making sure you have enough and the right customers lined up for you. Even if you don't have time, like or know how to sell.
How? By sharing my 4-step framework for sales and prospecting with you
Step 1 - Study: Identify your perfect customer & create your pitch
Step 2 - Search: Where to find your perfect customer (in Belgium)
Step 3 - Speak: How to start a conversation
Step 4 - Schedule: Make a plan prospecting that doesn't take much time and that you will actually stick to
Last year I decided to move from long term assignments to working on multiple projects simultaneously. This meant I had to constantly look for new clients, next to work. In this workshop, I share how I managed in one year to get enough clients to cover the same yearly income (100K) as I had before. I'll also share tips and techniques I learned from my decade long career as a business development and sales professional.
And you'll get my prospecting goal template where you'll find out how many prospects you need to earn your desired income.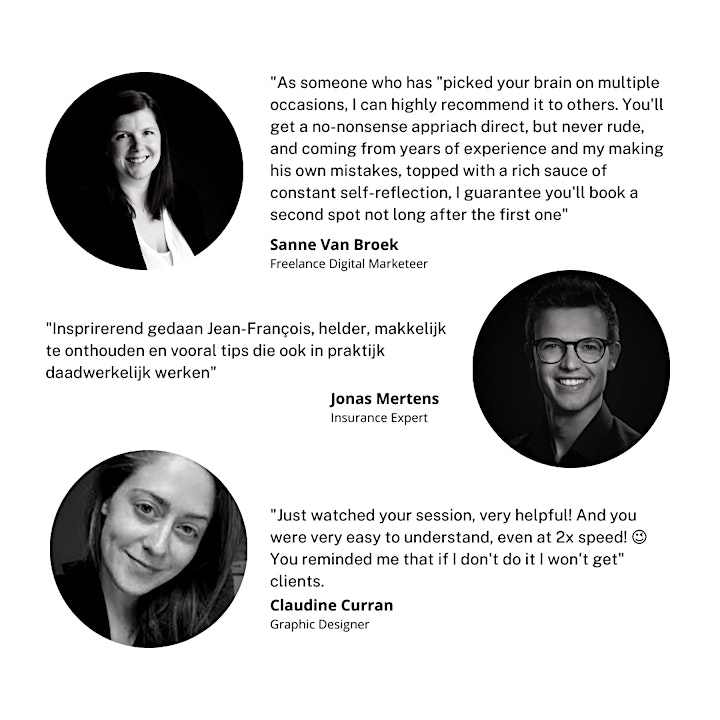 This workshop is for you if:
You are a starting independent professional who wants to work when you want, doing what you want with whom you want. Without a boss.
You want less stress and (financial) uncertainty in your freelance business
You are short of time and/or you don't like selling
You want to learn LIVE and be able to ask questions from a real freelancer walking the talk.
About the trainer Jean-François Bodart
With over a decade of experience as a freelancer, Jean-François is experienced in helping you develop your business. With a background in real estate, HR and marketing services and working with companies like Ascento, Immoweb, SD Worx, Easymatch and Ariad, he is home to many markets.
As a freelancer himself juggling multiple projects and a family he truly understands both the time constraints and the stress that (financial) uncertainty can bring and can give actionable advice especially to freelancers.
Connect with Jean-François Bodart on LinkedIn | 0032 474 96 80 22 | jfb@bizdev.be