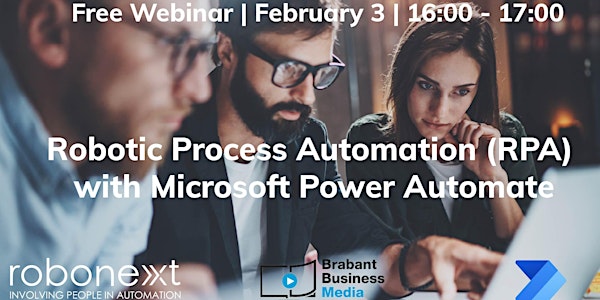 Robotic Process Automation (RPA) with Microsoft Power Automate
Discover in this free webinar by robonext the possibilities of RPA with Microsoft Power Automate.
About this event
Robotic Process Automation (RPA) is a software technology that enables you to build a digital workforce of software robots, who can perform a wide range of repetitive business processes automatically. Think about invoice processing, master data updates, customer onboarding, etc. Due to its wide applicability and interesting Return on Investment, RPA is the fastest growing enterprise tech.
Last year, Microsoft acquired Softomotive, one of the pioneers in the RPA industry and an early technology partner of robonext. This acquisition propelled Microsoft into the leaders segment of the RPA industry. In September 2020, Microsoft Power Automate Desktop was launched, and a few weeks ago Microsoft announced that Power Automate Desktop will become available to all Windows 10 users, completely for free!
Robonext is an original partner of Softomotive, before it took off in the commercial mainstream due to the recent Microsoft acquisition. We have a proven track record of dozens succesful implementations with this RPA tool, and are intimately familiar with the possibilities of Power Automate.
During this free webinar, you will learn about the possibilities of RPA with Microsoft Power Automate through live, hands-on demo's.
What you will learn
Introduction to RPA, typical use cases
Overview of Microsoft's Power Platform and Power Automate
Power Automate in action: live demo's on how to build a software robot in Power Automate
After registration, you will receive the link to the webinar at least 24 hours in advance.