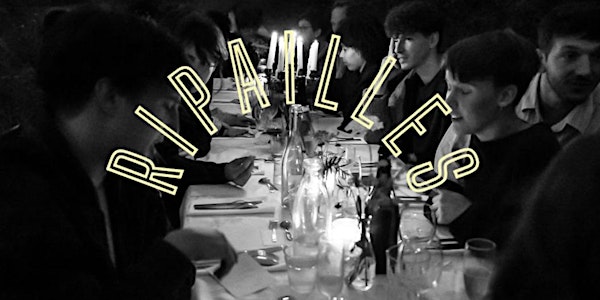 Multiple dates
Ripailles @Astrid
Ripailles estivales à la Guinguette !
Date and time
Fri, 29 Jul 2022 17:30 - Fri, 26 Aug 2022 22:00 CEST
Location
Astrid - La Guinguette Egide Rombaux Square 1070 Anderlecht Belgium
About this event
C'est R I P A I L L E S à la Guinguette !
Entre garden party et rassemblement punk, entre foire paysanne et dîner aux chandelles, on vous propose une cuisine d'un genre nouveau.
Bienvenue à toutes celleux qui se lèvent de table avant la fin du repas, à celleux qui lèchent leur assiette, à celleux qui claquent leur verre et à celleux qui rient trop fort.
Les Ripailles sont faites pour nous.
Cet été, on se retrouve à la Guinguette du Parc Astrid.
Au menu: un 6 services qui fusionne récup d'invendus bios et quelques pépites dénichées chez des producteurs locaux.
Fini les fonds de cubis ! Même si on aime aussi.... On a demandé à des copaines sommelier.e.s de vous concocter une carte de jus triés sur le volet, naturels et fermiers, of course.
Comme un repas ne vaut le coup que s'il est partagé, on suspend, grâce à vos réservations ❤ 10 repas pour des invités moins privilégiés.
Parce que finalement qu'est ce qu'on veut ?
Manger ensemble, comme si on en avait jamais été privé.e.s.
Faire débauche de table.
Ripailler.
En pratique ?
Un menu unique 6 services, à 45€ par personne.
Attention : à payer sur place par carte uniquement.