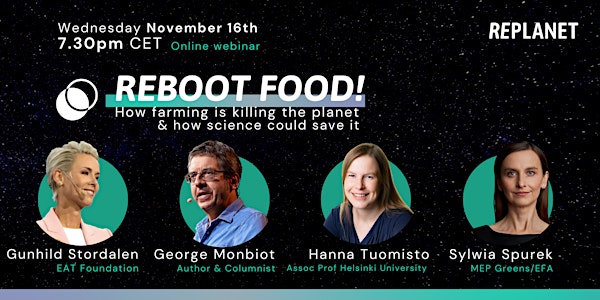 Reboot Food! How farming is killing the planet & how science could save it
To mark the launch of RePlanet's Reboot Food campaign, George Monbiot joins Gunhild Stordalen to discuss the future of farming and food.
About this event
What's the biggest cause of the sixth mass extinction of species?
What emits more greenhouse gas than all the world's cars, aeroplanes and ships put together?
What kills 75 billion animals a year?
Food.
It's time to face the facts. Our food system ​​– dominated by meat, fish and dairy ​​– is devouring the planet. If we want to leave a liveable world for the next generation, we need to reboot food.
Join scientists, activists, policymakers and farmers for the launch event of RePlanet's radical new campaign, Reboot Food. In this 60 minute webinar we'll explore how agriculture became the most damaging industry the planet has ever known, and present a new, provocative, science-backed roadmap to building a food system that allows our natural world to recover.
Don't miss out as we explore key food technologies like precision fermentation, examine core principles such as land sparing and rewilding, and enthral you with our manifesto of essential government policies, such as ending animal farming subsidies, that could make this transition come true.
Read about our ReBoot Food Campaign here: https://www.rebootfood.org
Speakers confirmed so far:
George Monbiot
George Monbiot is a British author, Guardian columnist, activist and winner of the prestigious 2022 Orwell Prize for journalism. His latest book, Regenesis, presents a provocative new vision for a post-animal food system and a rewilded world. His 2013 book Feral is widely considered a canonical text in the global rewilding movement.
Gunhild Stordalen
Gunhild Stordalen is a Norwegian medical doctor and founder and executive chair of the EAT Foundation, Stockholm. EAT is responsible for the globally influential EAT-Lancet Report which presented a global diet plan that could feed 10 billion people whilst staying within planetary boundaries. Gunhild played a leading role at the UN Food Systems Summit 2021 and sits on the board of a number of foundations and charities.
Hanna Tuomisto
Hanna Tuomisto is an Associate Professor at the University of Helsinki where she leads the Sustainable Food Systems Research Group at the Department of Agriculture and Forestry. Her research interests include the environmental impacts of agriculture and food production, life cycle assessment, carbon footprint, cellular agriculture, cultured meat, sustainable and healthy diets.
Sylwia Spurek
Sylwia Spurek is a Polish politician, lawyer, attorney-at-law and lecturer who currently serves as a Member of the European Parliament. Along with pushing for stronger EU-wide animal rights legislation, Sylwia is also vice-chair of the EU Women's Rights and Gender Equality committee.
About RePlanet
RePlanet is a newly launched citizens movement in eight different European countries. We are radically ambitious on climate and nature and radically pro-science. Our aims are to see 50-75% of Europe rewilded, our climate stabilised, animal agriculture replaced and the Global South guaranteed a high energy pathway to climate prosperity. Unlike many Green NGOs we defend science-enabled solutions such as advanced nuclear energy, precision fermentation and genetic engineering. RePlanet is exclusively funded by charitable donations and accepts no funding from industry or political parties.