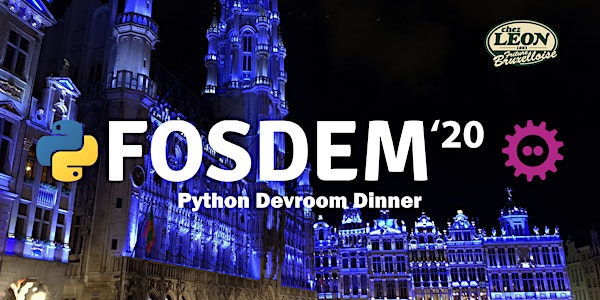 Python FOSDEM 2020 Dinner
FOSDEM 2020: Python Devroom Community Dinner
When and where
Location
Chez Léon Rue des Bouchers 18 1000 Bruxelles Belgium
About this event
FOSDEM is a free and non-commercial event organized by the community for the community. The goal is to provide free and open source software developers and communities a place to meet.
We are happy to announce that we will be running a Python devroom again at FOSDEM 2020, hosted in Brussels, Belgium. This year's edition will take place on the 1st and 2nd of February, with the Python devroom taking place on Saturday.
Place-to-be
As is tradition, there will be a community dinner on Saturday 1st of February 8PM, at Restaurant Chez Leon. The restaurant is easily reachable by public transportation, being only 5 minutes away from the central station. This is a great opportunity to meet multiple speakers and attendees after spending your day at the Python devroom 😉
The menu
Attendees will be able to choose from a personalized menu set up for this occasion by Chez Leon. The ticket fee includes 2 drinks of choice (beers, wine, cold drinks) and a 2 course meal. In case of any food restrictions, the waiters will suggest adequate alternatives on the spot.
Main dish
1⁄2 roast chicken, French fries and salad
OR
Fish and chips with Tartar sauce
OR
Flemish meat stew with French fries
OR
Grilled steak with French fries and butter Maître d'hôtel
Dessert
Chocolate mousse OR caramel pudding
Drinks
2 Draught beers of your choice
or
2 Soft drinks (33cl)
or
¼ lt of House Wine
Registration
Please be sure to register before January 30th, allowing us to book enough seats for the evening. We are allowed to divert slightly from the final number, but a good estimation of attendees is vital.
Pre-sales
Tickets are being sold in advance, so we can take care of the financial part. No need to queue at the end of the dinner to pay. Just order your ticket online. Easy win! In case you would like any additional drinks, you can purchase these separately on the spot.
Wrap up
Last but not least, a big thank you to the whole FOSDEM organization, the Python Software Foundation and you, the attendees, for making this event what it is!
We're looking forward to welcoming you both at FOSDEM and the community dinner!