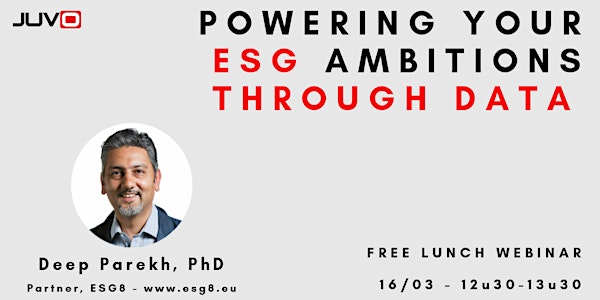 Powering Your ESG Ambitions Through Data
Powering Your ESG Ambitions Through Data
About this event
Companies have moved beyond profit and towards sustainability initiatives. The advent of the Environment, Social, and Corporate Governance (ESG) umbrella movement has converged the alphabet soup of sustainability initiatives into a common framework to achieve the UN sustainable development goals (SDG). A trifecta of factors is at play:
more firms are developing ESG-centric business strategies;
new EU regulations on ESG reporting;
financial markets tying ESG scores to cost of capital.
These three forces make it imperative to commit changing the status quo on your data strategy. A data strategy is aligned with your business strategy and helps to define how you could use data to achieve your business goals. In the ESG context, a data strategy will enable organisations to measure whether organisations reach their sustainable development goals.
Join us for this webinar to explore how you can power your ESG ambitions through data strategy.
About the speaker
Dr. Parekh is a serial entrepreneur and currently serves as the Managing Partner of Epistemy BV, a Belgian firm dedicated to developing sustainable strategies. He also serves as Partner of ESG8, a pan-European firm that is developing ESG-related business transformation programs.
Deep has served in executive leadership roles at Please Platform BVBA and Triamant NV in Belgium at the intersection of digital transformation and life, health and social technologies, and helping to shape Belgian legislation on the on-demand work economy. Prior to this, he co-founded an investment and advisory firm Asteroidea AG in Switzerland. Deep also co-founded and served as managing partner of management consulting and advisory services firm Equus Group in the US and Latin America. Prior to his journey on the course of serial entrepreneurship Deep has held executive advisory positions at various companies, including Unilever, Ernst & Young, and Booz Allen Hamilton, and IBM.
The scope of his business experience includes business strategy and models focusing on embedding environment, social, and corporate governance (ESG) into the core of the enterprise. He also invests in SMEs and has served on the board of several companies, both public and privately held.
Deep has earned a doctorate (PhD) in Business Model Dynamics from the Swiss Federal Institute of Technology (EPFL), an MS from Stern School of Business at New York University, and a BS from the University of Wisconsin-Madison. He also teaches frequently at these and other institutions.
Juvo
Juvo was founded in 2008 as an IT consulting firm focused around database technolgoy. Over the past 13 years, Juvo evolved into a company specialized in helping its customers to get value from data.
We believe that the correct use of data provides a competitive advantage for our customers. We inspire organizations to look at data differently in order to achieve their objectives faster.
Let's make data profitable!