Beschrijving van het evenement
PoP Café - we're not passionate just because, we're passionate on purpose!
Over dit evenement
Get ready for the PoP Café, May 5th, which is all about Passion On Purpose. Enactus Belgium has invited three people with a shared passion for positive change, each in their own way: Thomas de Groote, founder of River Cleanup, Philippe Weiler, Belgium's sustainability professional of the year and head of sustainability at Lidl, and Terry Torok, Chief Innovation Officer at Enactus Global.
Thomas, Philippe and Terry are social innovators and purposeful leaders - each in their own way. What is their story? What makes them tick, and succesful in what they do? What are their ambitions and how do they overcome the inevitable hurdles? Find out during the interactive PoP Café, listen, be inspired and ask questions!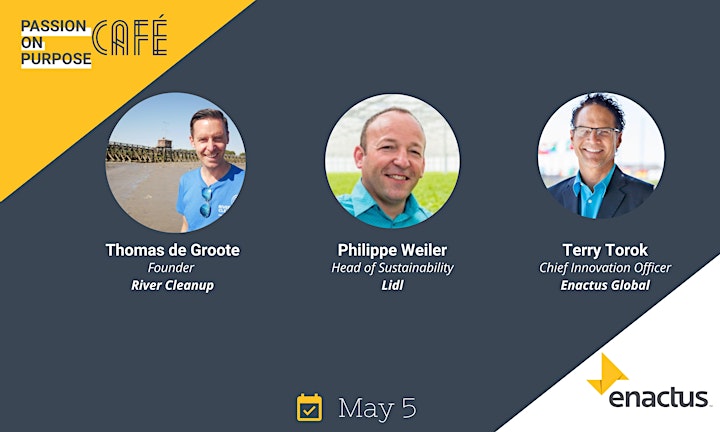 About Thomas
Thomas de Groote is the founder of River Cleanup, an organization dedicated to cleaning up plastic in and along rivers. For this it relies on enaging volunteers and using smart technologies. In this way, the organization hopes to generate awareness and behavioral change among policymakers, companies and individuals. Mostly relying on volunteers for their work, Thomas believes that each individual can be inspired and motivated to pasionately strive for positive change.
About Philippe
Philippe Weiler is head of sustainability/CSR manager at the international discount supermarket chain Lidl. In this function, he was lauded as the CSR professional of the year 2020 in Belgium. Also, Philippe is chairing a Commission for Sustainable Trade where he inspires other retailers to take bold sustainability moves too. His passion for 'sustainability in practice' has already lead to a lot of positive change. One example is Way to Go, a Lidl chocolate bar made by cocoa farmers in Ghana who now earn a fair wage.
About Terry
Terry Torok is chief innovation officer (CIO) at Enactus Global. With an enourmous drive, he motivates the next generation of leaders to act on their passion in order to change the world. He believes in taking entrepeneurial action for the better, thereby positively influencing both the initiators and the beneficiaries of such projects.