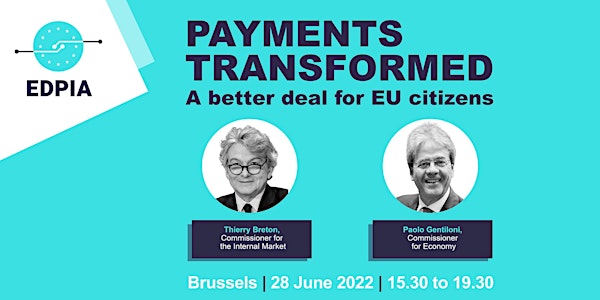 Payments transformed - A better deal for EU citizens
Location
TheMerode
6 Place Poelaert
1000 Bruxelles
Belgium
The EDPIA is pleased to welcome you to our 2nd-anniversary event for which we are honoured to welcome EU Commissioners Gentiloni & Breton.
About this event
The conference will start at 15.30 at TheMerode (Place Poelaert) and include high level speakers from the public sector and industry to discuss how the EU payments sector can best serve the evolving needs of consumers and businesses and support Europe's political ambitions.
We are pleased to announce that EDPIA will be welcoming two Commissioners on stage for its first in-person conference. Thierry Breton, European Commissioner for the Internal Market will deliver the keynote speech. Paolo Gentiloni, European Commissioner for Economy will be interviewed by Paolo Bertoluzzo, CEO of Nexi Group.
Other confirmed speakers include:
Eric Ducoulombier, Head of the Retail Financial Services Unit, European Commission
Holger Neuhaus, Head of Integration & Innovation Division, DG Market Infrastructure and Payments, European Central Bank
Rita Camporeale, Vice Chair, European Payments Council, and Chair of the Payments Council, European Banking Federation (EBF)
Hrvoje Cosic, CEO, Aircash
Bo Nilsson, Chairman, Nets and Member of the Board, Nexi Group
Gilles Grapinet, CEO, Worldline
The conference will be followed by a cocktail from 18.15.