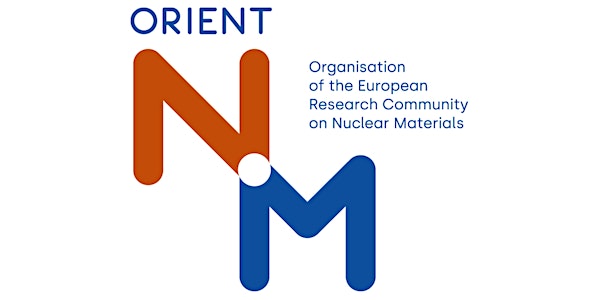 ORIENT-NM Open Stakeholders Dialogue
Online Event - This event is the first step of the open dialogue of the nuclear materials research community with all relevant stakeholders
About this event
The Euratom-funded ORIENT-NM project, launched in October 2020, is pleased to invite you to its first workshop in the frame of its work to explore the possibility of establishing a European Partnership on nuclear materials. The objective will be to discuss the opportunity to develop a potential European partnership on nuclear materials and to progress towards reaching a consensus on its goal and impact. The discussion among the invited stakeholders will be based on the first outcomes of the project and the first documents prepared by the ORIENT-NM community with the purpose of receiving input for their further development and improvement.
IMPORTANT
Given the purpose of the meeting, most of the sessions will be highly interactive, and active participation from the audience is expected.
Therefore, the ORIENT-NM consortium strongly recommends reading the documents available and having the necessary discussions within your group of work beforehand to provide constructive feedback during the workshop.
Your contributions will be crucial in the development of a coordinated European research and innovation programme on nuclear materials.
Thank you for your valuable support!
-------------------------------------------------------------------------------
The event will be organised mainly in an online mode. However, there will be a group of participants attending the conference live.
According to the current Belgian health and safety regulations, only a limited number of places will be available at the venue. At the moment, just online participation is possible.
For those attending online, a link to connect to the videoconference platform will be sent in due time.
-------------------------------------------------------------------------------
IMPORTANT: participants planning to attend the event in person will need to show one of the only two following options:
a vaccination certificate
a certificate of recent recovery from Covid-19
in order to enter the venue. In case of failure to comply with the mentioned provision, the organisers reserve the right to refuse the access to the venue. Please note that a negative Covid-19 test will not suffice.