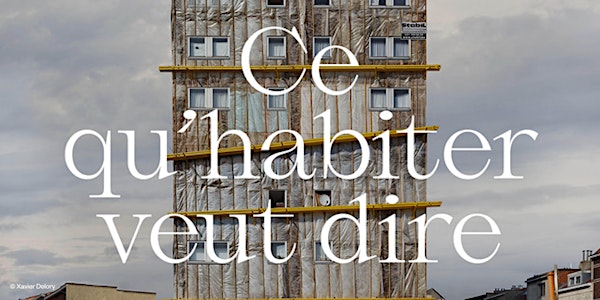 Opening Night — CE QU'HABITER VEUT DIRE
Join the opening night of the exhibition 'Ce qu'habiter vest dire' in collaboration with the ICA.
Date and time
Thu, 9 Mar 2023 18:00 - 22:00 CET
Location
MAD - Home of Creators 10 Place du Nouveau Marché aux Grains 1000 Bruxelles Belgium
About this event
The exhibition Ce qu'habiter veut dire, organized by the ICA at MAD Brussels, retraces the path of three years of cultural actions to meet the French-speaking Belgian territory and its inhabitants. During this exploration, with culture as leverage, we opened a question to all audiences: "For you, what is inhabiting?

"
Because living is not only housing, it is also becoming aware of a landscape and a territory, it is thinking about what to do with what already exists, what is already built and developed, it is participating in the development of its living environment and the culture that is animated around it, it is finally and above all dreaming of a different living environment, bringing better well-being.


Installations, models, frescoes, testimonies, videos, photographs, sketches and collages illustrate in this exhibition the diversity of approaches of those who rethink our living environment. This exhibition is the result of encounters between residents, architects, photographers, urban planners, landscape designers and artists, thus opening up new horizons. It provides rich visions, sometimes constructed, sometimes sketched, sometimes grounded in reality, sometimes utopian. Each subject of this exhibition is delicately composed and staged, in order to make architecture speak and to inspire each visitor on this theme.
About twenty contemporary architecture projects that have been outstanding in Wallonia and Brussels over the last thirty years are shown in the form of models, ground plans and graphic documents. Allied to a series of photographs, the whole composes a sensitive interpretation of the current built and non-built environment of French-speaking Belgium.
The exhibition Ce qu'habiter veut dire is also the occasion for the ICA to publish an eponymous book that completes the content of the exhibition. A way to extend the experience of the exhibition and to take with you a souvenir of the works exhibited.