Dit evenement is afgelopen.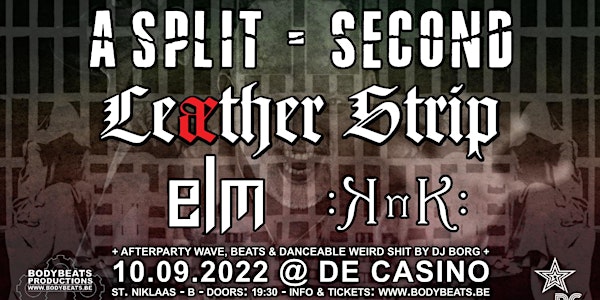 Not Just Another EBM Day with A Split-Second, Leaether Strip & more!
Live concerts by A SPLIT-SECOND / LEAETHER STRIP / ELM / KNK + Waves & Beats Afterparty with DJ BORG
Waar en wanneer
Locatie
De Casino 104 Stationsstraat 9100 Sint-Niklaas Belgium
Kaart en routebeschrijving
Beleid voor refunds
Geen refunds
Over dit evenement
BodyBeats Productions and De Casino would like to present you: "Just Another EBM" day, an evening with some great and legendary bands within the Wave, electro & EBM scene, supplemented with some wild and younger electro violence!
A SPLIT-SECOND should not need further introduction as they scored their first (underground) hit already in 1986, with their cult 12" single 'Flesh'. Evil tongues even claim that this song could be heard near the cradle of the Belgian New Beat hype/movement of the late 80s, of course a bit pitched down. Anyway, since this band played the roof off of many clubs and festivals all over the world.
Recently, the rumor of a highly anticipated new release was also confirmed by the appearance of a new song in recent their live sets! In addition, their performances are known as a true feast for the ears and eyes! So, get ready for a half-hour journey through their rich and amazinly discography!
Video > A Split-Second - Flesh (Live at Sinners day 2021)<
LEAETHER STRIP is one of the Scandinavian legends within the electro / EBM (Electronic Body Music) scene that has been touring the world continuously since the late 1980s. Over the years, this Dane managed to put together a remarkably impressive oeuvre, what do you think of 42 albums? He too is ready to bring you an over one hour set with filled with classics and some new work!
Video >Leæther Strip: Evil in Putin's Eyes <
ELM is a project of the in Brussels residing Swede Peter Elm. He himself calls his music Electronic Lust Music, we call it rock hard and uncompromising pounding Electronic Body Music! No wonder Elm has been already invited several times by the legendary Front 242 to warm up their audience.
Video > ELM - Death of the North (Live)
KnK is the somehow macabre and dark music project of two friends who, in addition to their passion for (dark) music, also share the same first name, namely Koen. Although both were heavily influenced by the aforementioned legends, they cannot simply be labeled as copycats. KnK recently released their third full-length 'The Head On The Floor' and list their creations as DBM = Dead Body Music! Come, see and learn!
Video > KnK - Dead Body Music
Time schedule:
19:00 Doors open
19:30 Knk
20:30 Elm
21:40 Leaether Strip
23:00 A Split-Second
00:30 DJ BORG