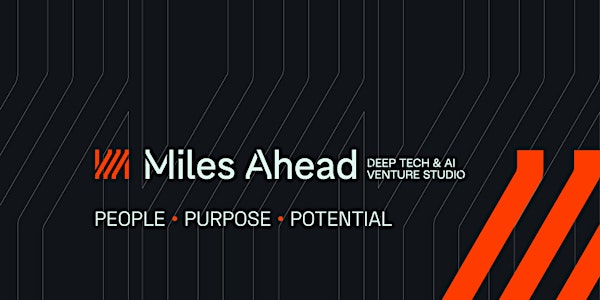 Miles Ahead Sessions II - Inbound Marketing
We invite you to the next Miles Ahead Sessions, a series of free IRL networking nights. This edition is dedicated to Inbound Marketing.
When and where
Location
Sociëteit De Verloren Kost, FLOOR 001 53 Coupure Links 9000 Gent Belgium
About this event
Miles Ahead is a Venture Studio helping first-time founders of Deep Tech & AI startups grow faster by producing and funding their business within an empowering environment.
The Venture Studio model enables Miles Ahead to work personally with founders to fund, accelerate & validate their idea into a successful business. Miles Ahead's creative approach ensures a faster go-to-market. We offer in-house guidance combined with expertise from successful entrepreneurs in the tech industry.
"Miles Ahead Sessions", is a new series of free IRL networking nights. We promise an exclusive evening filled with inspirational talks & high-quality networking.
This second edition of Miles Ahead Sessions will be dedicated to "Inbound Marketing", making the evening a must-attend event for startups & marketing professionals. Coined by HubSpot's founder Brian Halligan in 2005, the term Inbound Marketing from then on redefined Digital Marketing. Inbound Marketing helps to take marketing efforts to that next level, generating leads by focusing on creating quality content that pulls people towards your company. In recent research by HubSpot, globally 74% of brands confirm they are conducting inbound marketing on a global scale.
We invited two interesting speakers to share insights on entrepreneurship in Inbound Marketing as well as hands-on technical marketing advice. Ewout Meyns will shed some light on his entrepreneurial journey as Founder & CEO of PieSync, founded in 2012 until the acquisition by HubSpot in 2019. Rory Hope joins us from London (UK) and is the best person to introduce the latest trends in SEO and Inbound Marketing. He makes sure you go home with the right tips & tricks for all your marketing efforts.
Ewout Meyns is a software engineer and tech entrepreneur. He is the co-founder/CEO of PieSync, a Ghent-based scale-up that was successfully acquired by HubSpot in 2019. PieSync launched in 2014 and quickly became the #1 SaaS integration platform worldwide (according to G2Crowd). PieSync raised several funding rounds (1.6M€ in 2016 and 2.8M€ in 2018) and was able to grow to millions of ARR and thousands of customers worldwide through a 'product-led and Inbound marketing focused' growth strategy. The entire PieSync team (25 employees) joined HubSpot in 2019 and Ewout is now a Product Lead, responsible for the Data Sync features inside HubSpot.
Rory is a highly experienced organic marketing leader with a track record in formulating successful SEO & inbound marketing strategies that are designed to deliver a clear ROI, SEO growth and multi-million-pound revenues for startups to global organisations. He is passionate about developing integrated channel strategies and sharing knowledge. Rory's research and work has been featured at BrightonSEO and in Semrush, OnCrawl, Content Marketing Institute, Netpeak Software, and Audiense.
Miles Ahead Sessions II will take place at Sociëteit De Verloren Kost, Coupure 53, 9000 Ghent. Doors open at 5.30 pm, talks between 6-7 pm, followed by networking drinks until (approximately) 10 pm.
If you are interested, please register via the Eventbrite link (first come, first served).