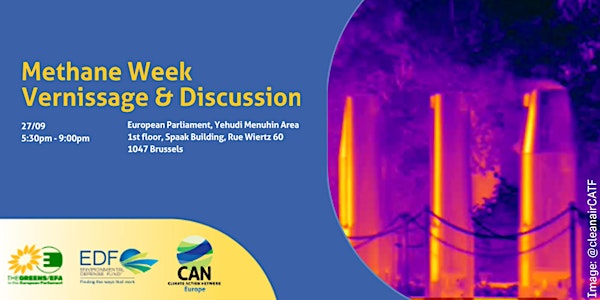 Methane week: Vernissage and Discussions
MEP Jutta Paulus invites you to join her and a whole host of scientific and policy experts for the opening event of Methane Week
When and where
Location
European Parliament 60 Rue Wiertz 1047 Bruxelles Belgium
About this event
*PLEASE NOTE THAT REGISTRATIONS FOR A GUEST PASS TO THE EUROPEAN PARLIAMENT ARE NOW CLOSE - IF YOU WISH TO ATTEND THIS EVENT, PLEASE DO SO IF YOU HAVE YOUR OWN PASS TO GET INTO THE PARLIAMENT. THANK YOU*
MEP Paulus will host an evening dedicated to the often overlooked subject of methane emissions. Methane is 80x more potent than CO2 over a 20 year time period in the atmosphere, so reducing methane emissions is one of the fastest ways to slow global warming in the short-term and will help achieve the EU's 2030 climate target.
The European Parliament is currently working on its report in response to the European Commission's proposed text for a Methane Regulation - a crucial piece of legislation that has the potential to massively lower Europe's internal and external methane footprint.
The evening will feature keynote speeches from senior European Commission and Parliament officials, as well as two panel discussions hosted by co-host organisation partners, Environmental Defense Fund Europe and Climate Action Network (CAN) Europe.
The full programme:
17:30-18:00 - The EU's role in reducing methane emissions
Speakers:
Catharina Sikow-Magny, Director of Green Transition and Energy System Integration, DG Energy
Martin HOJSIK MEP (Renew)
Jutta PAULUS MEP (Greens/EFA)
Anna ZALEWSKA (ECR)
Mick WALLACE (The Left)
18:00-18:15 - Intermission
18:15-19:00 - Panel: How satellite technology is ushering in a new era of climate transparency
Speakers:
Daniel Zavala, Senior Scientist, Environmental Defense Fund Europe
Dr. Claus Zehner, Mission Manager, Sentinel 5-P, European Space Agency
MEP Jutta Paulus, Greens/EFA, Methane Regulation Rapporteur
Moderator: Frédéric Simon
19:00-19:15 - Intermission
19:15-20:00 - Panel: Critical perspective on methane and its role in phasing out fossil gas
Speakers:
Moderator: Esther Bollendorff, Senior EU Gas Policy Coordinator, CAN Europe
James Turitto, Campaign Manager, Methane Pollution Prevention, Clean Air Task Force
Julian Schwartztkopff, Policy adviser energy & climate, Deutsche Umwelthilfe e.V. (DUH)
Tim Grabiel, International Environmental Agency (IEA)
20:00-20:10 - Official opening of the week
21:00 - Event close