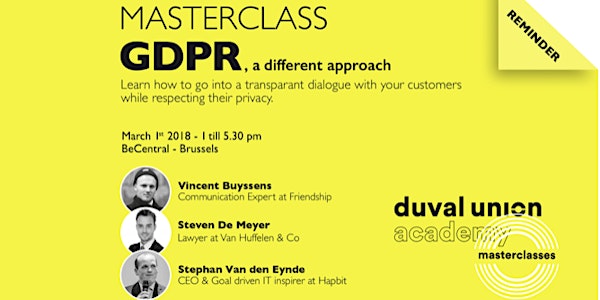 Masterclass GDPR
When and where
Location
BeCentral 12 Kantersteen 1000 Brussel Belgium
Description
Masterclass GDPR, a different approach


Learn how to go into a transparant dialogue with your customers while respecting their privacy.
Steven De Meyer, Lawyer at Van Huffelen & Co

Stephan Van den Eynde, Goal driven IT Inspirer for Service & Quality and CEO of Hapbit
Vincent Buyssens, Communication expert at Friendship
375 EUR (VAT excl.)


Wat leer je in deze Masterclass?

Vanaf 25 mei 2018 is een nieuwe regelgeving van kracht voor iedereen die persoonsgegevens verzamelt, beheert en gebruikt en dit zowel voor e-mail adressen als IP adressen. Dat betekent dat iedereen die met marketing bezig is, z'n aanpak zal moeten veranderen. In deze Masterclass krijg je een deep-dive in de 3 bouwstenen van GDPR:
Juridische bouwsteen: als bedrijf moet je weten wat GDPR is en wat je vanaf 25 mei wel en niet kan en mag met jouw data en je moet weten wat eventuele sancties inhouden.

Technische bouwsteen: welke IT toepassingen heb je nodig om jouw data op de juiste manier te beveiligen?

Marketing-Communicatie bouwsteen: hoe positioneer je je als bedrijf, na 25 mei 2018?
Je krijgt enkele quick wins mee om onmiddellijk te implementeren in je bedrijf, bijvoorbeeld : hoe ga je vanaf morgen op een creatieve wijze en toch GDPR compliant de dialoog aan met je contacten.
Over de experten
Steven is advocaat en helpt vandaag al zijn klanten GDPR compliant te worden. Stephan heeft zijn eigen IT bedrijf en kent alle toepassingen om data veilig te beschermen. Vincent is een digital nomad en creative copywriter en zet je op weg naar een creatieve dialoog met je contacten. Alle vragen beantwoorden ze vanuit hun expertise en praktijkervaring.
Doelgroep
CMO's, CIO's, Digital Marketing Directors, Data Protection Officers, Communication Managers, Business Development Managers, Sales & Marketing Directors, Social Media Managers, Business Unit Managers, PR Managers, IT Managers,...
Programma
13.00u - 13.30u: Aankomst & de experten ontmoeten
13.30u - 14.30u: Juridisch luik met advocaat Steven De Meyer
14.30u - 15.00u: Technische aanpak met expert Stephan Van den Eynde
15.00u - 15.20u: Koffiepauze
15.20u - 16.30u: Copywriting oefeningen om theorie naar praktijk om te zetten met expert Vincent Buyssens
16.30u - 17.00u: Q&A
17.00u - 17.30u: Round-up
Niveau
Je weet dat GDPR er aan komt maar je bent nog niet helemaal mee met de materie. Je wil antwoorden op de specifieke vragen waar je mee zit en na de masterclass wil je meteen aan de slag kunnen met wat je geleerd hebt.
Taal:
NL
FAQ's
"Wij zijn een service bedrijf en met deze nieuwe regelgeving riskeren we een groot deel van onze contacten te verliezen" - Niet noodzakelijk. De manier waarop je in dialoog treedt met je contacten is bepalend.
"Ik begrijp nog steeds niet wat er nu moet veranderen" - In deze Masterclass leer je op een halve dag wat die wetgeving nu eigenlijk inhoudt, waarom die er eindelijk is en hoe je er als individu er wel bij vaart en als bedrijf er je voordeel kan uithalen.
"Op het werk is onze legal department hiermee bezig, dus ik hoef als marketer er niet van wakker te liggen" - Toch wel, want elk departement - en zeker marketing en sales - zal de manier van data te beschermen en met data om te gaan moeten aanpassen. En dat is maar goed ook, want enkel bedrijven die met zorg omgaan met data zullen in de toekomst het vertrouwen krijgen van klanten.