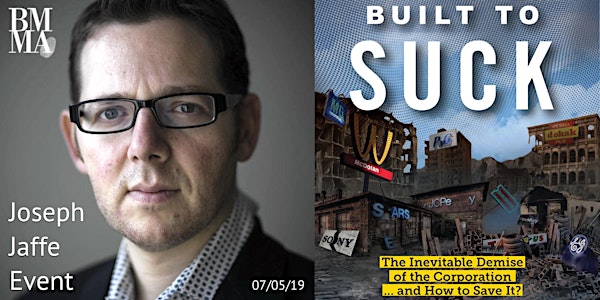 Joseph Jaffe - Built to Suck Exclusive Event presented to you by BMMA
Built to Suck : Corporations are dying. Can they be saved? A complete immersion with famous author and marketing expert Joseph Jaffe
When and where
Location
Club van Lotharingen 6 Place Poelaert 1000 Bruxelles Belgium
About this event
BMMA - Belgian Management and Marketing Association - has the opportunity to bring to the Belgian marketing audience one of the best marketing expert and author : Joseph Jaffe.
The day will be split in 3 parts:
Morning conference (limited to 100 people)
Noon lunch (limited to 200 people)
Afternoon workshop (limited to 50 people)
The content of the day will be around the following content:
Take a look around. Companies are falling like flies. Entire industries are starting to wobble as a result of the seismic forces of change, disruptive effect of technology and destabilising force from startups. Corporations have themselves to blame.
As the saying goes, "let's see how big we can get until we suck."
Mission accomplished. Corporations that once graced the Fortune 500 are now casualties of war. They've become too bureaucratic; too political; too dysfunctional; too risk averse and as a result, have lost their competitive edge. And if you expected good news or a happy ending, there may not be one. That doesn't mean we can't try. During this event, Jaffe will offer a path to redemption, which starts with looking in the mirror and addressing the inconvenient truth that unless we get better at dealing with change, our days are numbered. If and only if we do this, we might - just might – turn around our brand's trajectory, growth and fortune.