Multiple Dates
Index Investing for Beginners. Roadmap to get started. w/ Sebastien Aguilar
Index investing is a simple method to invest efficiently in the stock market. It's easy to implement and can be done by anyone.
About this event
"Compound interest is the eighth wonder of the world. He who understands it, earns it... he who doesn't... pays it." said Albert Einstein.
Many of us understand compound interest, but yet we fail to earn it. And that's often because investing looks complex or something that only the professionals do.
But that's a misconception.
In the last few decades, investing has become easier and easier for individuals like you and me. With the rise of index funds, exchange traded funds and discount brokers, investing is now something that anyone with an internet connection can do, and at a fraction of the costs charged by most banks or financial advisers.
In this session, I will discuss 3 important frameworks that changed my life:
1) How to beat professional fund managers and profit from market crashes - The core principles of index investing, built upon decades of academic research and practical experience by thousands of investors (the Bogleheads)
2) How to get started with index investing Belgium in just a few weeks - Sebastien's practical roadmap to learn everything you need to know and start investing with confidence
3) How to invest well with less than 100 euros in less than 5 minutes a month - The simplest approach for anyone to own most of the stock market in one transaction.
This is the information I wish I had found when I first started on this journey back in 2011.
My goal is to save you time and money, by presenting the most important lessons I have learned in the past 9 years, and preventing you from making the same costly mistakes I made.
I will also share information about the program I have been developing in the past few months to help people who need guidance to put all of this into action. And I will answer questions at the end.
If you're looking to build financial security and freedom in your life, then this event is for you.
Why index investing?
Index investing is very powerful. Research shows that on average, index investing generates returns far greater than other investment approaches.
The cost of not investing properly easily exceeds 100 thousand euros for the average investor in Belgium and sometimes translates in decades of lost time.
Here is an illustration: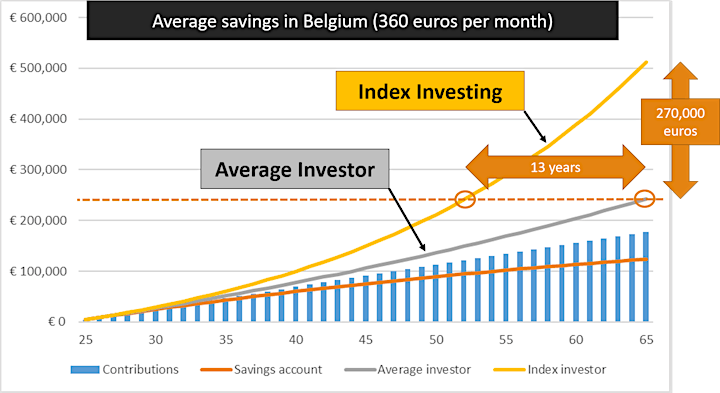 About the Speaker:
Sebastien Aguilar, Founder of FIRE Belgium and SimplyFI
"I believe money is the most powerful tool to create security and freedom in your life, so that you can focus on what truly matters".
In 2015, Sebastien founded SimplyFI.org, an organisation that helps promote financial literacy among expats in the UAE. He has helped thousands of people take better control of their finance and start investing wisely for the long term. His talks on "How to plan for financial independence" were very popular. Thanks to the help of an amazing team, SimplyFI is now a community of more than 12000 people, helping each other with their personal finances.

In 2019, Sebastien moved to Belgium and founded FIRE Belgium with the goal to share this simple yet life-changing knowledge of investing with everyone in Belgium. The community counts today more than 800 people, empowering each other to take control of their finances, through regular meetups and online discussions.
Sebastien has been featured several times in UAE newspaper The National, more recently in Le Vif Weekend in Belgium and on many podcasts.
Sebastien is not a finance professional (because you don't need to be one to invest wisely). He does not provide financial advice. Everything he shares is based on public information and is for educational and entertainment purpose only.
His background is in energy consulting and engineering. He used to lead a consulting team of senior experts in the fields of sustainable development and renewable energy. He has worked with the United Nations, advised government entities in the UAE and Saudi Arabia, for whom he developed, secured and managed multi-million dollar contracts.
On several occasion he was recognized for his resilience, leadership and strong work ethics.
About FIRE Belgium
We believe good personal finance and investing knowledge is an essential tool to building a fulfilling life. We see investing and financial independence as enablers for good. With increased control on our finances, we create choice and opportunities in our lives. And with increased financial security, all the way to financial independence, we unlock superpowers that can help make the world a better place.
We believe this simple knowledge is for everyone to benefit from, and we aim to bring it to everyone in Belgium.
FIRE Belgium is a community, mostly active on Facebook, but also present on Meetup. We exchange ideas and learn from each other online (and sometimes in person), via community forum, meetups, seminars and workshops.
Be sure to join us and take control of your finances so that you can live more and give more.
Make sure to also download your free Beginner's Guide to Index Investing and start learning the basics!
When registering for this event, you can also opt-in to the newsletter and make sure you don't miss any future event!
---
By registering for this event, you are deemed to have understood and consented to –
FIRE Belgium taking pictures and recording video footages of our events. Our events are held at public areas with controlled access, but we do not intend to photograph you directly but rather of the event attendees as a group. We do this based on our legitimate interest to document our events and market their success, via any means of our choosing.