Dit evenement is afgelopen.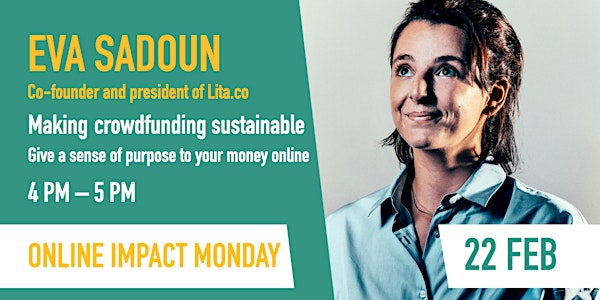 Impact Monday - Making crowdfunding sustainable
Give a sense of purpose to your money online
Over dit evenement
Eva Sadoun is a young « activist entrepreneur » lobbying tirelessly to revolutionise the world of finance. In 2014, she co-founded with Julien BenayounLITA.co, a crowdfunding platform that allows people to invest in sustainable businesses. 

In her early thirties, Eva is now president of Lita.co and co-president of the Mouvement Impact France resulting from the merger between Tech For Good France and the Mouvement des Entrepreneurs Sociaux.
The objective of LITA.co is that every euro passing through the platform has a positive impact on the environment and society. The two young managers also implemented in their company operating rules such as inclusiveness in recruitment, power-sharing and transparency on finances among employees. Through Lita.co, Eva and Julien aim to defend an economy at the service of people and society. 

Join us on February 22nd, to be inspired by Eva's journey as an activist entrepreneur.