An in-person discovery of the Japanese concept of ikigai in a systemic context
About this event
The case for ikigai
For all of us, 2020 has been a turbulent year, urging us to reinvent ourselves, rediscover who we are and what we stand for, and perhaps find meaning in it all.
Now surely, 2020 hasn't been the first time that turbulence like this has happened. Surely, the general feeling of things having gone awry in an unprecendented way, is in itself not as unprecendeted as we have come to call it?
Take ikigai. A concept and a methodology, or rather, a framework for individual and systemic wellbeing, that has come to prominence in the wake of Japan's 19th and earl 20th century leprosy health crisis.
Ikigai (生き甲斐 - "The Meaning of Life") is a hybrid concept, based on Japanese folklore, Taoist monastic routines, (Zen )Buddhist practices, Adlerian psychology and psychotherapy, and (perhaps most of all) the work of Mieko Kamiya (1914-1979, a most remarkable lady, who worked in a Leprosy Patient Sanatorium and wrote the seminal Ikigai-ni-Tsuite ("The Meaning of Life").
continue reading under the image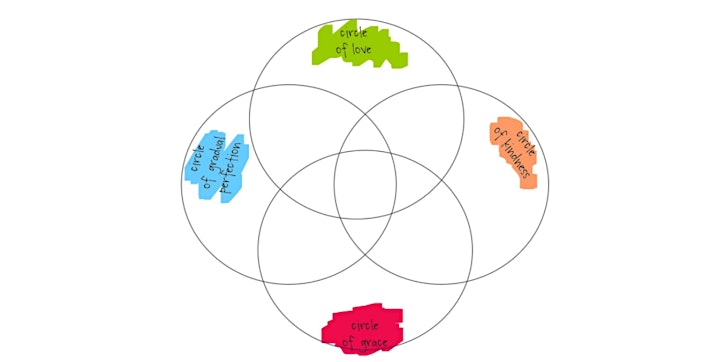 What this is
This is a three-parts-in-one-day, in-person ikigai discovery workshop, with two plenary sessions and one part devoted to individual introspection and reflection in between. For the individual part, the participants can choose a favourite spot anywhere in Bayt al-Andalus or its poverbially enchanting, walled oriental garden - or in one of the public parks and gardens in the vicinity of the venue.
The event is facilitated by Francis Laleman.
As a preparation for this workshop, it is suggested that the participant reads this article by Francis Laleman - written during his extended study retreat on Naoshima in Japan, in the summer of 2018:
continue reading this brief under the picture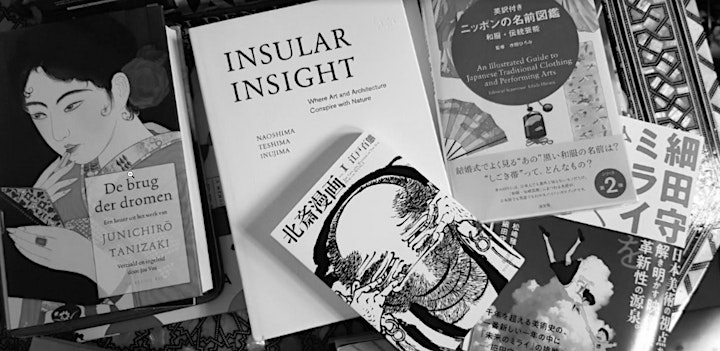 How this workshop works
The working language of the workshop will be English, but participants are free to do the individual work in their own language and/or to choose to work with peers speaking the same native language as themselves during break-outs.
The program:
10:00-12:00 CET First Plenary Session (Introduction) (@ meeting room)
An interactive discovery of the concept of Ikigai, its sources, its meaning, its methodology.
12:00-14:00 CET Individual Introspection and Reflection (@ house or garden)
Having received the necessary templates, each participant is set to work on an individual assignment, making room to understand the concept of ikigai in her own individual context. During this time, the facilitator (Francis Laleman) can be reached in a dedicated private space, in case the participants would like some help and/or coaching with the assignment.
14:00-16:00 CET Second Plenary Session (Systemic Balance) (@ meeting room)
In this session, the participants' work is brought into systemic balance - through, dialogues and conversations, mainly using Adlerian conversational techniques and liberating structures.
continue reading under the image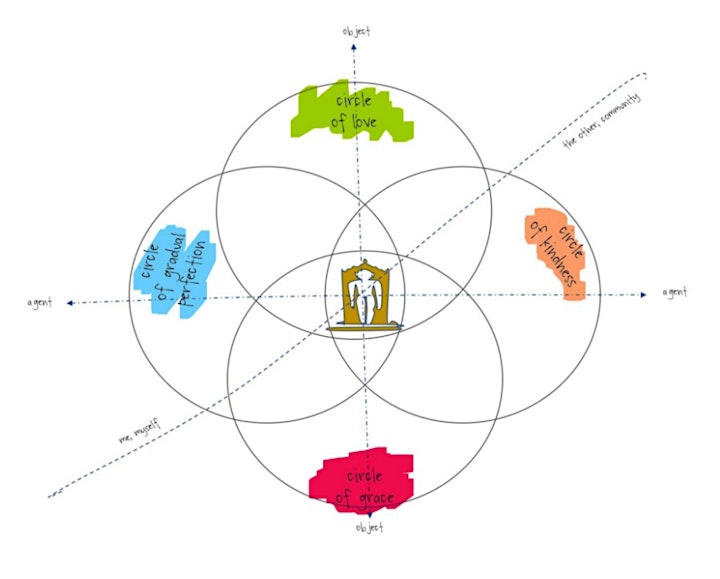 What to expect as takeaways:
You have understood the concept that a system of fourfold blessings also entails an understanding of fourfold suffering.
You have understood that happiness in life (including work) is about balance - and that balance is not necessarily compromise, but an Aristotelean framework, where individual parts are connected together to form one entity, together creating more value and meaning than if the parts were in silos.
You have started to get a better view on how you could find value and meaning in your own life (including work) - and you have understood that value and meaning are interdependent from each other - and dependent on the activities and relationships that an individual nurtures with and within the environment.
You may have laid the foundations of some impactful changes in your life, which includes your work.

Details, registration, price
The program is in-person. It runs at Bayt al-Andalus, in Berchem, Antwerpen, Belgium.
Like most of our programs, this program is on a pay-what-you-think-is-fair basis.
To attend, you need to register and donate whatever amount suits you best. Take into account that your donation will be augmented by a ticket handling fee and VAT.
Everyone receives an official invoice at the end of the month in which the workshop takes place.
Organizer of Ikigai - The Meaning of Life
Everything we do is about getting better, about helping you get beyond the borders of what you thought possible.
We help our clients build Agile communities, empower self-organizing teams, develop continuous and effective adult learning, apply meaningful instructional design, create a learning organisation, train learning facilitators, lubricate Lean and Agile transformations.
Linearity is out. We help our clients prepare to embrace the complex adaptive systems of today's reality.