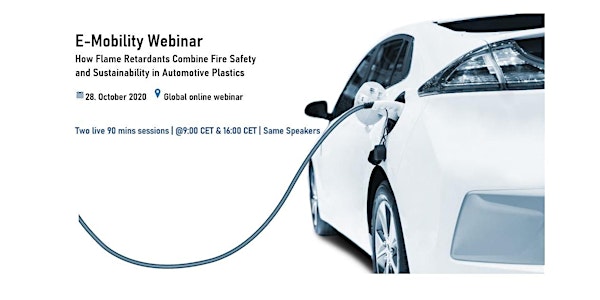 How FRs Combine Fire Safety and Sustainability in Automotive Plastics
Same Speakers | Two live 90 mins sessions | @9:00 CET & 16:00 CET
About this event
While the change towards e-mobility is irreversible, standards are undefined, and the automotive value chain appears to be less aligned on this important of topic of how to combine Fire Safety and Sustainability in e-vehicle plastics. With this webinar, pinfa aims to bring together the whole value chain on electromobility to kickstart discussions on fire safety and sustainability challenges in electromobility.
Join us to hear from leading industry experts and learn about:
the mounting electromobility challenges facing the automotive value chain
compliance with standards and sustainability requirements of materials
choice of flame retardants and compliance with fire safety regulations, and
more!
Agenda
Discover our agenda on our pinfa website.
Webinar Registration
Registrations are CLOSED.
Who should attend?
300 participants can join live session, from the automotive industry (OEMs, Tier 1 supplier, etc.), from the chemical industry (Flame retardants manufacturers, distributors), from the polymer industry (compounders, recyclers etc.) and beyond (policy makers, academia, civil society, fire testing laboratories, etc.).
Language
The workshop will be held in English language only.
Enquiries
Interested parties may contact pinfa for enquiries at hha@cefic.be
You missed the confirmation email?
See below the Microsoft Teams connection details :
AFTERNOON SESSION
Join by phone only : +32 2 897 19 25 (from Belgium, Brussels) - Phone Conference ID: 767 583 084# (Find a local number)