"What is our purpose as a media organization in a world in crisis?"
About this event
We're live at zoom : https://us02web.zoom.us/j/84287717915
The media industry has been hit hard by the corona pandemic. It challenges and drives us all to rethink, react and reboot our approach. During this session, we will be focusing on how society should reboot after a crisis, and how we can overcome this challenge together through innovation. We've partnered up with Slush in order to give startups a platform to speak.
Why Slush? Slush is one of the world's leading startup events in Helsinki, Finland. Node by Slush is a new curated community for European startups, investors, partners and ecosystem builders. It strives to support startups in raising funding, growing their business, and learning from the best through workshops, mentoring sessions, keynotes, and fireside chats.
Together with this community we're proud to introduce you to some of our keynote speakers who will lead this virtual conversation together with us, sharing their insights and answering the most important question of this session: "What is our purpose as a media organisation in a world in crisis?".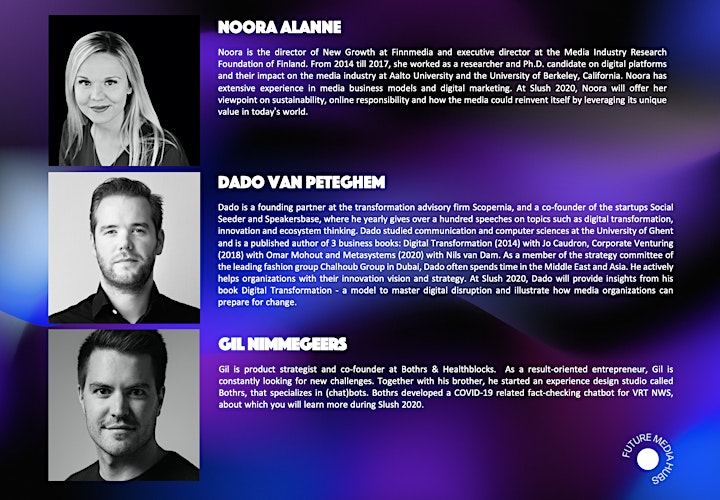 And, It's free! Be sure to tune in on Tuesday the 20th of October (10am – 12pm). Register already and stay updated about the line-up.
*Future Media Hubs are a VRT initiative in close collaboration with RTBF