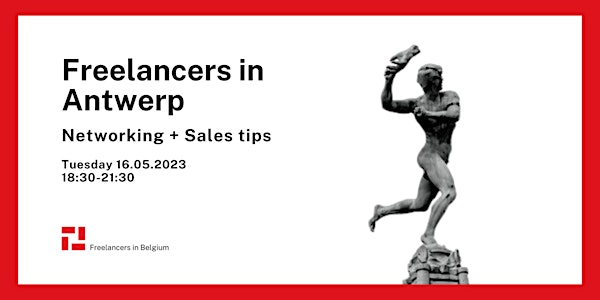 Freelancers in Antwerp
Network with freelancers and get tips for finding, getting and keeping clients even if you don't have time, like or know how to sell
By Freelancers in Belgium
Date and time
Tue, 16 May 2023 18:30 - 21:30 CEST
Location
Antwerp- exact location to be announced Exact location to be announced 2000 Antwerp Belgium
About this event
Why join?
Meet local freelancers. Expand your network to get (and give) opportunities, to learn, to share, to collaborate with, to get support, inspiration and motivation.
Discuss pricing, saying no, staying motivated, home-office must-haves, tax optimisation tips and any other freelance-related matters with your freelancer colleagues.
Get sales tips from Business Development Freelancer Jean-Francois Bodart - read more about this session below.
Agenda
18:30 Doors open
19:00 10 Freelance Sales & Lead Generation Process presentation by business developer freelancer Jean-François Bodart
19:45 Speed-networking & round tables with a drink and a bite
20:45 Open networking
21:30 Event ends
Please note that the event agenda might change slightly as we are approaching the event.
Who is this event for?
This event is for all kinds of freelancers living in and around Antwerp, at any stage of their careers.
About the presentation: Freelance Sales & Lead Generation Process
Sell successfully even if you don't have time, like or know how to sell.
Training yourself in finding, getting and keeping clients is key to a successful freelance career.
But how to integrate sales and prospecting into your already busy agenda?
Or does your stomach turn when you think about talking money with clients?
In this session you get:
- tips on where to find clients in Belgium
- guidance on how to use LinkedIn for prospecting
- to learn how to sell more confidently
- a plan for prospecting that doesn't take much time and that you will actually stick to
As a freelancer himself juggling multiple projects and a family, Jean-François truly understands both the time constraints and discomfort sales can bring for freelancers.
That is why his tips are designed specifically for freelancers, they don't take much time and will help you do sales more confidently.
With over a decade of experience as a sales freelancer, Jean-François has a lot of knowledge to share.
He has a background in real estate, HR and marketing services and working with companies like Ascento, Immoweb, SD Worx, Easymatch and Ariad, he is home to many markets and types of clients.
About the organiser
Events designed to empower freelancers