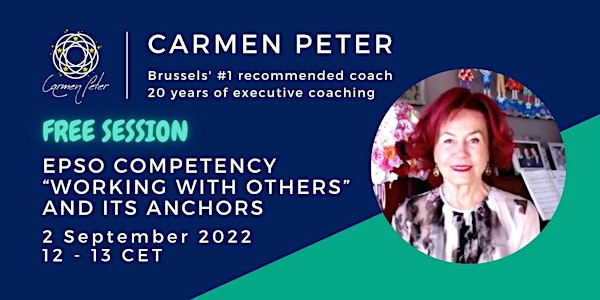 Free session-EPSO Competency "Working with others" and anchors
Join Carmen on 2 September 2022, 12 PM Brussels time for the Free session - EPSO Competency "Working with others" and its anchors
About this event
🪄 Another #freesession dedicated to #EPSOcompetencies! "Working with others" and its Anchors: How to Best Prepare your Examples
🗒️ When? Friday, 2 September, 12:00 PM CET, #onZoom
Hope you will join the discussion!
Registration closes at 11:30 AM CET on the day of the event.
You will receive the link 25 minutes before the session starts.
#carmenpeter #epsocoach #eucareers #eujobs
About the trainer:
Ms. Carmen Peter is an executive coach and trainer living in Brussels
She has 20+ years of successful EPSO coaching experience
She has worked for 20+ years for the European Commission as an accredited coach and trainer
Carmen Peter is Brussels' #1 recommended EPSO coach. Train with the best and be at your best on your exam day!
Language: English
Platform: Zoom