Dit evenement is afgelopen.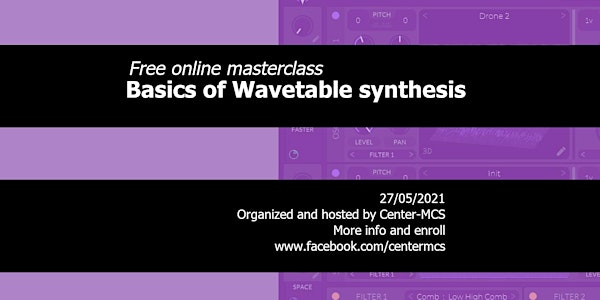 Free online masterclass basic Wavetable synthesis
This free masterclass gives an in depth introduction into the basic principles of wavetable sound synthesis
Over dit evenement
Curious about the courses we offer at Center-MCS? Then this is your chance to find out more during this free masterclass on basic principles of Wavetable synthesis
Thing's we'll do in this free masterclass:
Basic principles of Wavetable synthesis
Differences between Wavetable synthesis and other synthesis techniques
Overview and function of different components of a Wavetable Synth
Practical introduction how to use these different components
Design first sounds using a freely available Wavetable software synth
Requirements:
There's no requirements to follow this workshop. So no prior knowledge on synthesis or synthesizers.
You can follow this workshop completely with the freely available Wavetable Synth plugin Vital